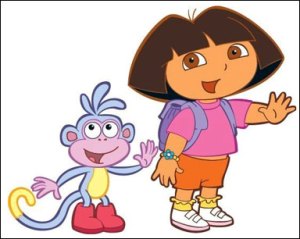 They're at it again! We told you last month that the co-creator of bilingual cartoon character Dora the Explorer Eric Weiner and wife Cherie Vogelstein had sold their home for $5.85 million. Hopefully Mr. Weiner has made a good cut of the cartoon franchise (which has reportedly raked in over $1 billion in revenue for Nickeloedeon)  because he and Ms. Vogelstein have just spent $8.5 million on their new Upper West Side home.
The 3,326-square-foot condo is located at the Laureate, a luxury condo at 2150 Broadway. According to the listing, the five-bedroom, 4.5-bath home features a giant master bedroom with his-and-hers walk-in closets, a private balcony, and a huge five-fixture master bath with heated floors. Que Bueno!
With walnut floors, a washer and dryer, a library and so-called "great room," Mr. Weiner and Ms. Vogelstein will certainly have room for their backpacks. And monkeys.
The highlight of the home is the 519-square-foot great room. Located "at the prow of the building," according to listing agent Shlomi Reuveni of Brown Harris Stevens, the giant space connects to a separate dining room and library. Mr. Reuveni could not immediately be reached for comment.
According to StreetEasy, the home was originally listed for $8.8 million.
eknutsen@observer.com