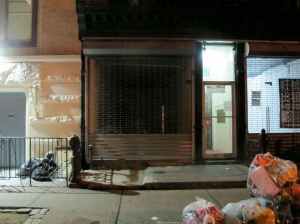 Former Metro Pictures bookkeeper Photios Giovanis will open a new gallery on the Lower East Side next week. Callicoon Fine Arts will open at 124 Forsyth Street with a show by Glen Fogel, called "Goldye" on September 7.
The address, says local blog Bowery Boogie, was recently divided into two storefronts. Callicoon will reportedly take the northerly one.
As for "Goldye"?
Titled after the first name of the artist's grandmother, the exhibition contains a sculpture incorporating light and sound to invoke Goldye's near death experience. She ultimately survived the episode, living on for another year with no memory of the event.

The presence of light is commonly reported in such cases. However, the sound, also included as part of the sculpture, is a recording of the artist's re-enactment of events that surrounded his grandmother's experience and touches on the inexplicable nature of what occurred. The sculpture itself is a continuation of the artist's use of personal artifacts to stress the mediated quality of artworks. As in Fogel's previous works, such as his recent 5 channel video installation of wedding and engagement rings, and his series of love letters fashioned as large oil paintings, Goldye comments on the inherent and acquired value of these artifacts.
The press release is accompanied by a giant photo of this woman.
Mr. Giovanis told The Observer he decided to move his gallery to Manhattan from Callicoon, in upstate New York, to get more viewers for the artists he shows. "I'm here because I wanted to reach a larger audience," he said.
Being upstate New York – hardly a hotspot for contemporary art galleries – his location became part of the talk around his gallery. He said he looks forward to having that change. "After three years of bringing lots of wonderful artists to Callicoon I wanted to continue the programming in New York, where it could be part of a larger discussion," he said. "It's no longer about where the gallery is located. It will become more generally about the work and the artists."
Mr. Giovanis opened his gallery in Callicoon in May, 2009, and during the three years he ran it there, he had a long commute. He lived a sort of upstate/downstate existence. Weekdays he served as Metro Pictures bookkeeper; on weekends, he and his boyfriend, Stephen Motika, would drive up to Callicoon with their two cats. Mr. Motika runs the nonprofit publishing company Nightboat Books.
Being so far off the gallery map was a risk. A bigger risk was spending money on shipping and booth costs to do the Nada art fair in Miami in December 2009, just six months after he opened. But Callicoon won the best-in-booth prize that year. "Besides the prize money, the recognition was valuable," said Mr. Giovanis. "I don't know how it happened but it was a great way to kick off my whole thing."
In Callicoon, Mr. Giovanis became involved in the area's hot-button issue, the movement against the gas drilling method called fracking. He joined the group Catskill Citizens for Safe Energy. "Whenever anyone would walk into the gallery, they would look around at the work, but the conversation would always turn to what was happening with fracking," he says. Even with his move to New York, he's remained involved in the group.
Aside from his continued interest in the anti-fracking cause, Mr. Giovanis hasn't entirely abandoned Callicoon, where he still has a country house. "I'd like to do a couple of shows a year upstate," he said. "But it won't be in my previous space. It will be more ad hoc."
In Callicoon, Mr. Giovanis was showing artists like Frances Cape who already have galleries in New York. So his New York program will change a bit. It will also feature artists across a wide age range. After Glen Fogel, he will show Thomas Kovachevich, who has been making artworks since the 1960s. After that comes Benjamin Kress, a young artist who hasn't had a New York show in some five years.
Although he is now on the Lower East Side, far from Callicoon, Mr. Giovanis is keeping the gallery's name. "That's important," he said. "Trying to run a gallery like this in a small town is an unexpected thing to do. It borders on the absurd, and it's a feeling I want to keep with me. I'm very serious about it, but I also think humor, a sense of displacement, and being a bit awkward and uncomfortable is important."