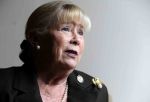 Another one for the "Hard to Believe There Isn't Already a Law About This" file.
Long Island Congresswoman Carolyn McCarthy is introducing a bill tomorrow called the "Ending Corporal Punishment in Schools Act," which would end the practice of children being struck or beaten in schools by school personnel.
According to McCarthy's office, there are currently 19 states that permit the practice.
"There are two Americas out there for young students right now – one where they go to school knowing that they'll be guided positively by caring adults, and one where they live in constant fear of getting beaten," said Rep. McCarthy. "Bullying is enough of a problem among students; the teachers shouldn't be doing it, too.  There's nothing positive or productive about corporal punishment and it should be discouraged everywhere."
According to the the U.S. Department of Education Office of Civil Rights, over 200,000 students are the victims of corporal punishment in the 2006-2007 school year, and African American children and children with disabilities corporal punishment are far more likely to be victims. at disproportionately high rates.
Ms. McCarthy's bill would allow the education secretary to withhold funds to any educational agency or institution that allows corporal punishment, defined in the bill as "paddling, spanking and other forms of physical punishment, however light, imposed upon a student."
The bill does provide for an exemption that allows for school personnel to use reasonable restraint if a student's behavior poses an imminent risk of physical injury to the student, school personnel, or others.
The 19 states where corporal punishment in schools is currently legal are: Alabama, Arizona, Arkansas, Colorado, Florida, Georgia, Idaho, Indiana, Kansas, Kentucky Louisiana, Mississippi, Missouri, North Carolina, Oklahoma, South Carolina, Tennessee, Texas, Wyoming.