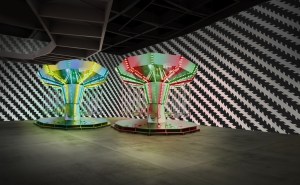 As The Observer noted in its recent list of the season's top 10 museum shows, French artist Carsten Höller's upcoming mid-career retrospective at the New Museum, "Experience," which opens next month, will feature his fully functional, mirror-covered carousel, one of his most iconic works.
But now we've been told that two more carousels have been commissioned, by the Italian power company Enel, which named Mr. Höller the winner of its annual contemporary art award, which funds the production of an original work of art that involves the theme of energy.
Mr. Höller's new work is called Double Carousel with Zöllner Stripes (2011), and as that title suggests, it is a psychedelic-looking beast of an installation. The press release announcing the award said that riding the carousel will "create a destabilizing effect, wherein spatial perception is deformed, creating a slowed-down vision of reality."
Winning the top prize from the jury, which was comprised of international curators and museum directors, Mr. Höller beat out fellow finalists Bruce Mau and Paola Pivi. Past winners of the prize include such energy-minded artists as Jeffrey Inaba, Angela Bulloch and Assume Vivid Astro Focus.
New Yorkers mesmerized by Mr. Höller's carousel at the New Museum will be able to ride his new contraptions, beginning Dec. 1 at the MACRO museum in Rome.