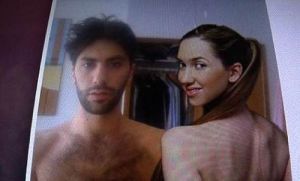 Without opening the whole can of worms of whether or not last year's Sundance darling Catfish was like, a real-real documentary or a pseudo-documentary or a fake documentary that fooled nobody and that was the point, one thing can be said for the film: It did for Internet dating what Fatal Attraction did for having affairs with really high-strung women with bad perms. Without giving too much away–though if you still are worried about Catfish spoilers maybe you should just go Netflix Catfish already?–the documenting of Nev Schulman's Facebook relationship with long-distance girlfriend Megan made us all want to go home and unsubscribe from every dating site and social network we've ever been a part of. Then that feeling passed, and we were back on JDate within 24 hours.
Which is all to say good luck to Nev on his latest endevour, an MTV "docu-series" where he help couples find love over the Internet. And just to avoid any confusion, this show will also be called Catfish.
Here's the official release, which really has to be read to be believed. (It also puts the word "Unscripted" in quotes when referring to this show, which is always a good sign):
From the producers of the hit Sundance feature documentary Catfish comes a new MTV series that brings together couples who've interacted solely through LCD screens. Over the course of months they've supposedly fallen in love — but what will happen when they meet in real life for the first time?  With the guidance and help of Nev Schulman, the star of the original feature film, in each episode a hopeful romantic partner will go on an emotional trip to discover the truth about their significant other.  Is he who he says he is?  And if so, will love truly blossom?  These emotional journeys promise to be filled with mystery, surprises, and sometimes, even shocking revelations. Catfish is produced by RelativityREAL. Executive producers are Tom Forman, Nev Schulman, Ariel Schulman, Henry Joost, Marc Smerling, Andrew Jarecki, Brad Bishop and Jonathan Karsh.
Wait,  Mr. Schulman is now an Internet relationship expert because spoiler alert he was (allegedly) tricked into sexting an old woman?
You know what? Fine. It can't be worse than Skins.