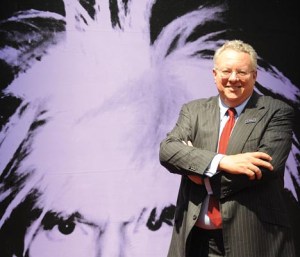 Here's something we missed last week: on September 22, several activists involved in #OCCUPYWALLSTREET disrupted an auction at Sotheby's on the Upper East Side. They said it was out of solidarity for the locked out art handlers union.
It begins as one lot had reached a bid of $130,000. A young woman stands up and announces that Sotheby's made profits of $680 million last year (this is kind of a refrain for the protesters; they also unleash several attacks on Sotheby's well-paid CEO William Ruprecht). In the most polite of auctioneer voices, the woman at the podium says, "Excuse me, madam, I would ask you to please leave this auction."
The disruptions continue. The auctioneer says with an uncomfortable chuckle, "OK! Hopefully that's the last interruption, ladies and gentleman. Let's get back to business, OK?"
As one particularly livid protester stands up and announces, "Sotheby's is fighting a class war against their workers and it is unacceptable!" the auctioneer says quietly to the audience, "Thank you for your patience, ladies and gentleman."
It is quite a dramatic contrast. Have a look at the video here. Below it, #OCCUPYWALLSTREET posted a short note to viewers:
WE WILL NO LONGER TOLERATE BUSINESS AS USUAL.
DON'T LET SOTHEBY'S AUCTION OFF GOOD MIDDLE CLASS JOBS TO THE LOWEST BIDDER!
DON'T LET SOTHEBY'S AUCTION OFF THE AMERICAN DREAM!
MAKE WALL STREET PAY!
DOWN WITH SOTHEBY'S! DOWN WITH GREED!
UP WITH THE PEOPLE! UP WITH THE UNIONS!
#WEARECOMING
Hugs and Kisses,
#OCCUPYWALLSTREET Labor Group