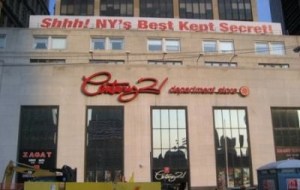 It may be the worst shopping experience after the Trader Joe's in Union Square. Still, when Century 21 is good, it's really good. Dress shoes, bow ties, and some of the best clearance deals in town—if you can stand slapdash shelves and crammed clothes racks, the flood of tourists fighting for clothes and the woefully indifferent staff, the store can be a goldmine.
These problems could be disappearing as Century 21 plans to expand its downtown flagship in the coming months, according to Crain's. Well, everything except for the rudeniks behind those red aprons.
Earlier this year, Century 21 filed a zoning change to allow it to expand by 76,000 square feet within its current location across from the World Trade Center, between Broadway and Church Street. The zoning change was approved by the City Council's Zoning and Franchise subcommittee yesterday, and it is expected to pass the main committee later today.
Century 21 currently occupies 120,000 square feet, the cellar and first three floors, at 22 Cortlandt St. The retailer wants to add floors four to six, which had been occupied by an office tenant but are currently vacant. If approved, the store's flagship will grow to 196,500 square feet.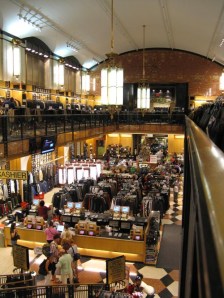 Century 21 began the application process for an expansion in May in a move that is seen as a positive development for not just the store, but for lower Manhattan in general. Community Board 1, as well as the City Planning Commission, unanimously approved the expansion in June and July, respectively.

The store has long been viewed as an anchor and symbol of resilience for lower Manhattan after the 9/11 terrorist attack.
It is not clear when the store plans to unveil its larger space (The Observer has called to find out), but assuming it can complete it by next summer, when all the tourists return, and no doubt queue up for the new 9/11 memorial that opens this week–an expected 4 million a year–the crowds will be more crazed than ever. Century 21 will need the space.