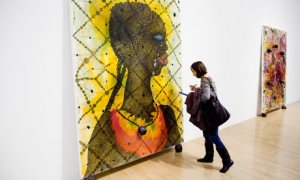 The Art Newspaper has tracked down the earliest paintings by artist Chris Ofili to make use of elephant dung. They are located in the vault of a gallery in Bulawayo, the second largest city in Zimbabwe.
Mr. Ofili began to experiment with dung as a material on a British Council-funded trip to Bulawayo in 1992. There are three untitled paintings, according to The Art Newspaper, and the largest is almost two meters long. Not surprisingly, they are reporting the works are "in urgent need of conservation" due to the materials and "the artist's lack of experience at the time of making them." Mr. Ofili was just 23 at the time.
The artist would go on to win the Turner Prize and become internationally renowned. His use of elephant dung in his work would continue, perhaps most prominently in 1998's "No Woman No Cry," which is propped up on two dried and varnished balls of elephant dung; the painting's subject wears a similar piece of dung as decoration on a necklace. Reportedly, Mr. Ofili packed elephant dung in his luggage to take back to London on his return from Bulawayo.