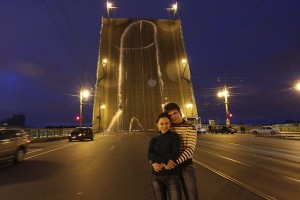 Earlier this month, we reported on the messy entanglement of Russian Art Group Voina and the Moscow Biennale. The organizers of the Biennale included a video by former Voina members Pyotr Verzilov and Nadezhda Tolokonnikova and attributed the work to Voina. Current members, however, say the two were removed from the group in 2009. Mr. Verzilov and Ms. Tolokonnikova claim they still have the right to use the Voina name. Now the Biennale's organizers are clarifying these accusations:
There is a single video in the Media Impact festival within Moscow Biennale, produced in 2011 by the Moscow faction of Voina. It is important to clarify that, at this time, there are two factions of Voina after the split in 2009.

The boycotting faction is claiming that work made by the others is not authentic Voina work.  The boycotting faction also states that: "We've achieved a partial victory. The stolen works will be taken down. Curator Tatiana Volkova didn't have the guts to act so insanely. But what they're doing now is even lower…. Out of spite, the curators decided to present fakes under the name of Voina.'"

Not a single work has been removed from the exhibition because, apart from the aforementioned video, there have never been any other works by Voina in the exhibition.  Contrary to what is claimed, no works have been added to the exhibition.
The split occurred after accusations that Mr. Verzilov had been an informant on a plotical activist in Ukraine.
The video features Mr. Verzilov, Ms. Tolokonnikova and a number of volunteers attempting to kiss female police officers in Moscow.
The message from the Biennale's organizers  is prefaced with this epigraph:
"We have a much clearer understanding of what is happening with the Wall Street occupation right now than we do about internecine art world struggles over provenance."