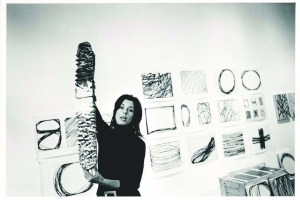 "When you're young," Paula Cooper said, "It seems you do so much in a short time. I look back and I think: how could I have possibly done all that? But anyway, yes, I worked in a gallery and it was a very small world."
The art dealer was talking in her office on the second floor of her gallery on West 21st Street in Chelsea. An exhibition of wall drawings by Sol LeWitt hung in the main room. The office was dimly lit, a bare cube with a small window overlooking the rest of the gallery below. A Roy Lichtenstein painting was on the wall behind her. The Lichtenstein estate approached the gallery last year and asked them to do a show of the artist's "Entablature" drawings; it opens this Saturday. Ms. Cooper's computerless desk was cluttered, but in a mannered way, with piles of paper arranged in orderly stacks spread across its surface. She wore all black; a pair of sunglasses rested on top of her head, taming a bundle of hair. She speaks softly, but her voice carries weight. Often, she'll follow up a profound comment—spoken with a contemplative frown—by breaking into laughter.
Hers was the first gallery to open below Houston; the art world, which doesn't agree on much, accepts that as a fact.
"I didn't like uptown," Ms. Cooper said. "I thought it was just little shops. I looked downtown. And people told me that I was crazy to open there. That no one would go there."
"Desolate" hardly describes downtown when she moved in. That was 1968. By 1975, the neighborhood had a flashy name—SoHo—and 84 galleries.
Ms. Cooper runs one of the international art world's most venerable galleries, but has always operated relatively privately. In the last year, though, she's been in the spotlight. The young abstract painter, Tauba Auerbach, one of the stars of the last Whitney Biennial and an artist who was left without a gallery when her former dealer Jeffrey Deitch became director of the Los Angeles Museum of Contemporary Art, was pursued by several blue chip galleries including, according to sources, behemoths like The Pace Gallery, Gagosian, and David Zwirner. She went with Ms. Cooper. This past spring, Ms. Cooper exhibited Christian Marclay's 24-hour paean to cinematic history, The Clock. For several weekends, the gallery stayed open 24/7 and a line stretched around the corner into the early hours of morning. The last time a crowd had lined up around the block for a show in Chelsea – and then only when the sun was out — was in the spring of 2009, when her neighbor on W. 21st street, a branch of Gagosian gallery, the biggest gallery in the world, opened an exhibition of late paintings by Picasso.
While The Pace Gallery transitions from the leadership of patriarch Arne Glimcher to that of his son Marc—and as Larry Gagosian effectively lacks any known succession plan—there is a pantheon of powerful women art dealers quietly nearing a time when they will have to start winding down their galleries—or finding ways to keep them afloat in their absence. What will happen to their artists? Pace and Gagosian are big, international businesses. Off the record, many people in the art world are happy to compare them to Wal-Mart. But dealers like Barbara Gladstone, Marian Goodman and Ms. Cooper—all of whom have been in business in New York for decades—run the classic New York galleries, having steadily grown the careers of many of the artists at the top of the contemporary market. The men of Gagosian, Pace, Hauser & Wirth and David Zwirner may regularly make headlines as the world's top art dealers, but much of the business is controlled by these women.
When Ms. Cooper opened on Prince Street, not only were there no other dealers in the neighborhood, there weren't even street lamps. Her space was on the third floor of a factory with a freight elevator that only ran until 3 pm and didn't run at all on Saturdays. She had $3,000 saved from selling a Mark di Suvero sculpture and a small loan from a bank that had refused to give her the $5,000 loan she wanted. She had no full-time employees. The artist Lynda Benglis would come by occasionally to help with typing and sweep the floors. SoHo was a world away from the uptown establishment of Leo Castelli and Arne Glimcher.
When Ms. Cooper eventually moved her gallery to Chelsea in 1996, the neighborhood was a maze of parking garages. The only other business on the block that the gallery still occupies—now along with Tanya Bonakdar, Casey Kaplan, Barbara Gladstone and Larry Gagosian—was a gay sex club.
The history of Paula Cooper Gallery is, in many ways, the history of the New York art world. She saw the ragged early 70's evolve into the boomtime 80's; she's lived through three major recessions; she once cleared out her artist stable after 25 years to find fresh talent ; she's built up the careers of artists from Donald Judd, Elizabeth Murray and Carl Andre  to Christian Marclay, Rudolf Stingel and Kelley Walker. If she doesn't have the global empire of Gagosian or Pace, it is because she has always operated differently. More than a few people think of her as the "quintessential artists' dealer," maybe one of the last.