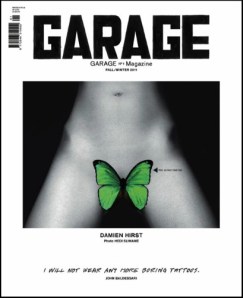 We've been anticipating the release of Russian billionaire Dasha Zhukova's Garage Magazine all summer. It costs $18.99 and is out on newsstands now.
The first thing to say about it is it's huge and heavy. When The Observer handled the magazine clumsily the other day, we thought the cover came right off the glue of the binding. It turns out, the cover was designed to come off the binding so it could be opened flat to better enjoy the photo spreads. Either way, be careful with it. For it cannot be contained.
Beyond that, there's a Velvet Underground & Nico-ish cover: a green butterfly sticker pasted over a woman's crotch that, when "peeled slowly," reveals a butterfly tattoo over the woman's labia. It's a piece by Damien Hirst photographed by Hedi Slimane.
The table of contents is spread over two pages. The list of contributors is presented as a series of courtroom sketches. The jury, for instance, is comprised of Shala Monroque, Vanessa Traina, Tina Brown, Juergen Teller, Christian Boltanski, Jeff Koons, Mike Meire and Larry Gagosian (court room officer Mr. Hirst presides over them). A motley crew, indeed.
Contributing editors include Peter Brant II, Tavi Gevinson and Barbara Bush. Neville Wakefield and Marina Abramovic are among the contributors. There is an alternate cover by Richard Prince that is a sketch of a tattoo that depicts the face of the Kool-Aid man.
Other features include E-mails from the Edge, a series of correspondence between Derek Blasberg and anonymous friends. Sample text (sic throughout): "see you there homo,…cock licker, asss eater…my role model."
Many of the features take on the structure of a Q & A. Becky Poostchi interviews Boo Ritson. There is a short blurb introducing the interview:
Boo Ritson paints people. Literally. In a wry take on the artistic process, she daubs their bodies and clothes in paint, then photographs them. Her latest victims are models in new-season Jil Sander—the fashion purist's choice. Postmodern or what?
Fredric Jameson defines postmodernism as an ideology, in the Lacanian sense, "the representation of the subject's Imaginary relationship to his or her Real conditions of existence," wherein "Imaginary" is a fundamental narcisissm in which a subject, forever captivated by his image in the mirror, forms a conception of himself along with his ideal object of desire; the Real is not reality but rather the psychical "object of anxiety par excellence." Postmodernism, Jameson said, was characterized by "skepticism toward metanarratives" as a "mode of experience."
So: maybe Ms. Poostchi! Maybe Boo Ritson is postmodern.
Anyway, there is an essay on contemporary Russian art—this being the official magazine of Ms. Zhukova's Garage Center of Contemporary Culture in Moscow—a think-piece on how people should "embrace failure as a friend," and the kind of inexplicable inclusion of the short story "Skin" by Roald Dahl, which fits into some of the magazine's major themes (namely the body-as-canvas narrative projected by the cover), but is also available in several major collections and has been for years.
Beyond that: Ms. Zuhkova interviews Tina Brown. Here's a gem from that conversation.
DZ: Why do you think we keep having so many political scandals?
TB: You mean political lynchings? I have a theory that men are losing altitude at tremendous speed, and that they are so insecure that they are acting out with sexual antics all the time.
Ouch!
The magazine, however, has a pleasant look. The Observer suggests you follow the narrative of photographs about Matthew Day Jackson's piece Sweet and Sour Golem (sweet & savory), in which the artist created two sculptures made entirely of food that look like people. Garage interviews him "about immortality." Images of the sculptures' slow decay from the rotting food are interspersed every now and then among the magazine's nearly 300 pages.