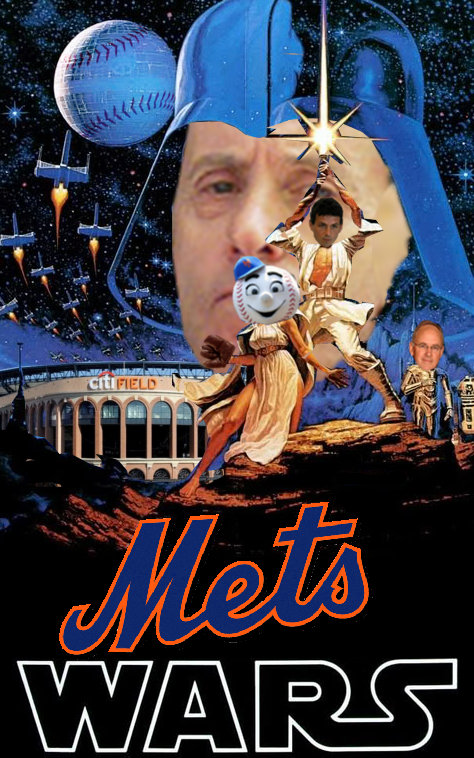 Any Mets fan can tell you that things just have a way of ending ugly around the franchise. Whether they be a family day at the ballpark (see: former closer Francisco Rodriguez attacking his girlfriend's father in the family lounge after a game), to epic collapses on the field (see: 2007, 2008), to careers that looked bright (see: too many to mention in parenthetics), it just seems like the team and the organization behind it can snap defeat from the jaws of victory at any time.
This feeling has pervaded the franchise and its fan base for almost a quarter of a century and the mystery behind its cause has been philosophically chocked up to the ineffable, existential pain of being the "other baseball team" in town.
But in a conference call today with David Einhorn, the wunderkind billionaire hedge fund manager of Greenlight Capital, some light was potentially shed on a more concrete cause of what ails "The Amazins." After a very public courtship and semi-public negotiations that seemed all but wrapped up, Mr. Einhorn announced this morning that he had broken off negotiations with Mets ownership after being unpleasantly "surprised" by the behavior of Fred Wilpon and company during the final days and weeks over what seemed to him like a done deal.
In his press release this morning Mr. Einhorn stated,
"I am disappointed to announce that I will not be purchasing an ownership interest in the New York Mets baseball team at this time. It is clear that it will not be possible for me to consummate the transaction on the terms that the Sterling-Mets organization and I originally agreed to several months ago. The extensive nature of changes that were proposed to me at the last minute has made a successful transaction impossible."
And during a conference call with reporters late this morning, Mr. Einhorn elaborated on those changes by unveiling his take on recent events, a first person narrative that unleashed a litany of bad faith behavior on the part of Mr. Wilpon and his partners that, if true, demonstrate a disturbing picture of how business is done inside CitiField.
Mr. Einhorn is claiming that the deal he proposed in April and was tenuously accepted by Mets ownership in the form of an exclusive negotiation agreement, would have entitled him only to a role of "offering ideas and advice while [the team] offering financial security" in the wake of their role in the Bernie Madoff scandal.
To that end, Einhorn believed that "everything seemed done in May" but talks lagged on until July, when Mets lenders got involved and talks turned more problematic, causing Mr. Einhorn and his team to work more closely with Mets bankers on the finer details of the deal.
According to Mr. Einhorn (and also reported in press at the time), while he finished negotiations with the team's lenders and investment bankers, the Wilpons re-opened talks with at least one other former bidder (who is believed to be Gelncore oil trader Ray Bartoszek), despite the exclusivity agreement that Mr. Einhorn believed was still being honored by both parties.
While the rumors shook Mr. Einhorn's confidence in the Wilpons' good faith, he decided to "look past it" and continue with negotiations but did propose a new clause in the agreement that would have allowed Mr. Einhorn an easier and earlier departure from the investment "if the partnership wasn't working out down the line." The new clause was met with some negativity by Mets ownership when Mr. Einhorn requested it be included in the language of the deal to be ratified by Major League Baseball and its ownership group.
Despite the Mets hesitancy, Mr. Einhorn recently met with Major League Baseball Commissioner Bud Selig to explain his stance on the new clause. Mr. Einhorn said he left that meeting feeling assured that Mr. Selig and the other owners would back the inclusion of the clause in any approved agreement. Mr. Einhorn admitted to having been somewhat frustrated by how the Mets ownership group was handling negotiations, but did not decide to pull out of the deal until he very recently learned that the Wilpons and their group had been "lobbying M.L.B. in secret to reject the clause in the final agreement."
So today, with all the bad faith becoming too much to take, Mr. Einhorn is taking his metaphorical ball of equity (believed to have been around $200 million) and gone home. "I'm pulling out of this deal at this time," Mr. Einhorn said. "There is no longer any deal in place."
The Observer asked if Mr. Einhorn had ever experienced similar dealings in his other business ventures. "In my experience, most deals that fall apart, fall apart at the end," he said. When pressed as to the particulars of this deal, he responded, "I'll admit, I was surprised." For the manager of a multi-billion-dollar hedge fund, that is a striking admission.
If what Mr. Einhorn claims happened in his four-month long association with the team and its ownership is the modus operandi of the organization itself, it would seem to be that long suffering fans can expect more pain as the Wilpons' shouts of "play ball!" are met with a deafening silence by investors who don't believe that they play fair.
tmcenery@observer.com