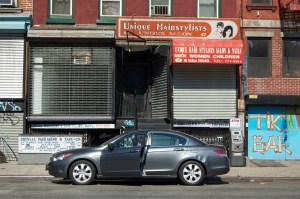 The eastern edge of the Lower East Side gallery district is about to gain a new resident, with art dealer Maxwell Graham, the former director of Soho's Renwick Gallery, set to open a new gallery on Essex Street, south of Grand Street, on Sept. 17.
"I'm very happy because it's at 47 Essex," Mr. Graham told The Observer on the telephone, mentioning the address of his new outfit, which will simply be called Essex Street. "It relates to Orchard, which was at 47 Orchard Street," he said, referring to the Orchard gallery, which was run from 2005 to 2008 by 12 backers, including artists Moyra Davey, Andrea Fraser and R.H. Quaytman.
During its three-year run, Orchard, which was one of the lone galleries in the neighborhood at the time of its start, hosted a remarkable series of events and exhibitions. Today, the Rachel Uffner Gallery resides at 47 Orchard, and galleries stretch up and down the street.
But Essex Street (both the gallery and the street itself) are located just east of that main drag, on a slightly quieter stretch of the Lower East Side. Mr. Graham's space is a short walk from galleries like Ramiken Crucible, Reena Spaulings and 47 Canal Street, and just up the street from the headquarters of the multitasking art company e-flux.
Essex Street the gallery will open with a group show called "Marking by Disclosure." Alongside a collaborative work by fasting-rising artists DAS Institut, United Brothers and designer Nhu Duong, there will be pieces by veterans like Mierle-Laderman Ukeles, the New York artist who is best known for her "maintenance artworks," the Belgian artist Joëlle Tuerlinckx and Portugese artist Helena Almeida.
"I thought a lot of these figures weren't getting enough attention in New York," Mr. Graham said of those latter three artists. He added of Ms. Tuerlinckx, in disbelief, "She's had three solo shows in America and they've all been museum shows!" Indeed, though all three of those artists have been admired by curators, they have shown in New York commercial spaces only infrequently.
"The show is meant as a departure from the original strand of institutional critique," Mr. Graham explained. "It's about instances where artists have smudged the institutions or had negotiations with the presentation."
Brooklyn artist Jason Loebs, whose work was recently seen in the Richard Aldrich-curated "Addicted to Highs and Lows" at Bortolami and the Whitney Independent Study Program show, is next at bat, opening a solo show at Essex Street on Oct. 29. Also showing at Essex Street is Valerie Snobeck, who previously worked with Mr. Graham at Renwick, though no date for her show has been set.
"When I got here, there were all these pictures of Jonas Mekas wearing suits hanging on the walls," Mr. Graham said, describing his new space. "Some people have told me that this was Jonas's tailor shop." Coincidentally, Mr. Mekas, a storied New York filmmaker, is represented by another L.E.S. dealer, James Fuentes, who recently moved to Delancey Street, just a few blocks away.
"The space has some soul and character," said Mr. Graham. He has decided to leave one Mekas poster on view.
arusseth@observer.com