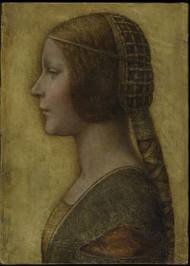 The debate over the authenticity of a lost Leonardo Da Vinci portrait that has had art historians scratching their heads for years is not over yet, according to an article in the Guardian. In 1998, the painting, pictured here, sold in the low five figures at Christie's and was "dismissed as 19th century pastiche." Now Martin Kemp, professor emeritus of art history at Oxford University says he has identified the portrait as "a missing sheet from a 15th century volume linked to Leonardo's great patron, the Duke of Milan, Ludovico Sforza."
One authenticator claimed to have found Da Vinci's fingerprint on the canvas. The New Yorker's David Grann–in a piece you should read right now if you haven't already–chronicled that story last year.
The Guardian writes of a new development:
A clue lay in the stitch-holes along the portrait's left-hand margin, suggesting it had been torn from a luxury-bound volume. But the chances of this volume surviving 500 years were remote, and the chances of it being found even remoter.

Against the odds, Kemp tracked the volume down, to Poland's national library in Warsaw; the stitch-holes are a perfect match for those on La Bella Principessa, a portrait in ink and coloured chalks on vellum. It is overwhelming evidence, Kemp says, that the portrait dates from the 15th century – and not the 19th century, as Christie's thought when it sold it in 1998 for £11,400 (it could fetch £100m as a Leonardo).
The portrait's vellum material, Mr. Kemp says, "closely matches the physical characteristics of the remaining sheets" in the 500-year-old volume.
Mr. Kemp announced this as a real Da Vinci last year, but there is still no consensus. Scholars argue there are no other Da Vinci's on vellum. According to the Guardian:
It is unfortunate…that the attribution has suffered because a Canadian 'forensic art expert,' who detected a fingerprint that appeared to match one on another Leonardo, has been 'rather discredited' over a work whose attribution to Jackson Pollock has been disputed.
If the piece were discovered to be real, it would likely sell for nine figures.
UPDATE: The Guardian amended its article to clarify the above reference to what they had initially called a "fake Jackson Pollock." This post has been updated accordingly. An original version of this post also included an interpretation of David Grann's New Yorker article. That interpretation has been removed.