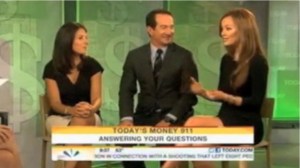 Since announcing her split with CNBC yesterday, business anchor (and, yes, Media Power Bachelorette) Nicole Lapin has been meeting with CNN's HLN and the luxury lifestyle publisher The Robb Report, according to a source familiar with the activities of her new production company, Nothing But Gold.
Ms. Lapin is flirting with outlets for the new shows she'll be producing. She's no stranger to HLN; she regularly made appearances on the network as a CNN Live anchor, before she hopped to CNBC in January 2010.
In the mean time, she's appearing on the CW's Dr. Drew's Lifechangers and the NBC's Today show, and working on Decoding The Wall Street Journal, a book that will demystify the financial topics covered in the broadsheet. She'll also launch a suite of online personal finance and investment tools along the lines of Mint.com. 
It seems Ms. Lapin, 27,  has swiftly transitioned from covering business to having one of her own, a move her ex-boyfriend (and, yes, Media Power Bachelor) Brian Stelter trend-spotted in June, as a flock of television anchors flew their network coop for independent production studios, online or on television.
"Katie Couric, Oprah Winfrey and Glenn Beck, among others, are taking equity stakes in themselves, separating from the media conglomerates that have profited mightily from their star power," he wrote.
Did his article inspire Ms. Lapin's move?
"No," she wrote The Observer in an e-mail. "I've always had a dream to start my own production company and the timing couldn't be better."
She's said to be positioning herself as a Suze Orman for a younger generation, but according to her, it's more personal than that.
"I am doing this for my former self, who grew up not talking about the Wall Street Journal at the dinner table," she wrote. "I taught myself finance, I decoded it the hard way, without one single resource, without one single voice of education, without condescension."
A bit mystified by personal finance ourselves, The Observer asked Ms. Lapin if her production company's name means we should be buying up gold. She doesn't have a position on the commodity investment, but she offered the following quotation:
"Those joys were so small that they passed unnoticed, like gold in sand, and at bad moments she could see nothing but the pain, nothing but sand; but there were good moments too when she saw nothing but the joy, nothing but gold."
We think that means we should buy a rare edition of Anna Karenina instead.