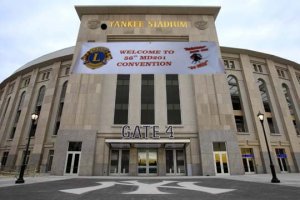 When Bronx Borough President Ruben Diaz Jr. announced yesterday that a plan is in place to to build a hotel and convention center on sites adjacent to Yankee Stadium that are currently being used—well, underused—as a parking garage, there was some understandable cynicism.
The most glaring question centers around the company that currently owns and operates the 21 acres in question. The Bronx Parking Development Co. utilized State funding to develop indoor parking structures near Yankee Stadium in anticipation of the larger crowds that would be drawn to the area by the excitement of the new stadium.
But those crowds either never materialized or weren't interested in the facilities offered by BPDC, which has ended up reporting surprisingly low revenues from parking during all seasons, even when baseball is being played next door. After all, parking cost $23 to begin with, and because nobody was willing to pay that, somehow jumped to $35 to help recoup the loses, though that only drove away more traffic.
Those low revenues have plunged the company into a miasma of debt that now totals roughly $17 million in back rent and real estate taxes to the city and state. In order to salvage its investment, it appears the city is ready to seek out more financing (and inevitably offer more tax breaks) in order to go into the hotel business with a company that apparently can't even survive in the garage business.
Not only that, but it would be doing so in an area that logically only draws tourist interest between April and October (if the Yankees play well) and is a fair distance from the more tourist-friendly "hot spots" of NYC.
While all this evidence is not exactly 'the stuff of which investment dollars are made,' allow The Observer to make an argument that it very well should be.
Firstly, BPDS seems to have been overhauled internally with bondholders taking more active roles in its day-to-day governance and demanding more fiscal transparency from a management that, quite frankly, might need to get out of the garage business anyway.
Secondly, the city cannot sit idly by and watch property that should be generating revenue go fallow and un-parked upon while its own budgetary concerns continue to wreak havoc on its ability to offset the financial issues created by stagnant unemployment rates—and stagnant parking facilities. Besides, this is good for the environment. Keep riding those trains, folks.
Thirdly, the hotel business in NYC is good business, even in the other four boroughs. Statistics for hotel occupancy rates citywide were 81.5% in 2009, marking the sixth straight year that number stayed higher than 80% even as the number of available hotel rooms soared during the same time period with many of those new hotels being built in Brooklyn and Queens.
And lastly, how long have we been hearing about the need for an alternative (or replacement) space for The Javits Center? If the convention center on offer in Midtown isn't cutting it, the city would be smart to move on building an alternative in area that is connected to one of the Big Apple's most iconic brands: the Yankees.
So, while we sympathize with the doubters, we're choosing to see this plan through rose-colored glasses, especially as that color makes the Macombs Dam Bridge look a whole lot cooler anyway.