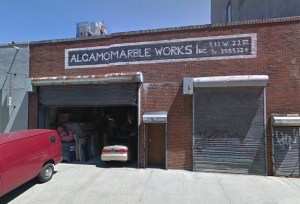 In this week's issue of the Observer, columnist Adam Lindemann reveals that, back in June, the Dia Art Foundation quietly closed on the purchase of a $11.5 million building at 541 West 22nd Street, in Chelsea. A representative of Dia confirmed the purchase and said that Dia has a long history on 22nd Street, and that this purchase was a way of taking advantage of a strategic opportunity the foundation couldn't pass up.
The newly acquired building, currently home to Alcamo Marble Works, Inc., is adjacent to 545 West 22nd Street, which Dia bought in 1992, and which is currently on lease to The Pace Gallery. Pace, which operates two other gallery spaces in Chelsea and will soon add a third, is to depart from the 22nd Street location next summer.
Dia, which was established in 1974 by Philippa de Menil, Heiner Friedrich, and art historian Helen Winkler, opened a New York branch across the street, called Dia Center for the Arts, at 548 West 22nd Street, in 1987. It closed that branch in 2004 for repairs, then sold the building three years later for $38.55 million. (Zach Feuer Gallery and CRG Gallery now occupy its ground floor, but a Dan Flavin light installation is on long-term loan to the building from Dia, and lines the stairwell. Dia also continues to maintain Joseph Beuys's 7000 Eichen (7000 Oaks), an installation of trees and basalt columns along West 22nd Street.) Dia opened Dia: Beacon in a former Nabisco factory building in Beacon, New York, in 2003, allowing the foundation to display its permanent collection.
After it sold 548 West 22nd Street, Dia, which also maintains several artists' projects in New York and in New Mexico, began looking for a new New York location and in the meantime partnered with The Hispanic Society of America for a series of projects. Initially, Dia looked at the site at the base of the High Line, which will now become the Whitney Museum's Renzo Piano building. In November 2009, Dia announced that it would reopen in Manhattan at 545 West 22nd Street, a site that would give it about 50,000 square feet. At the time, Dia director Philippe Vergne told the New York Times "We don't want a big museum. New York has enough of them. I am more interested in an ambitious program than an ambitious building." Combining the two sites will increase the footprint available for a new structure.