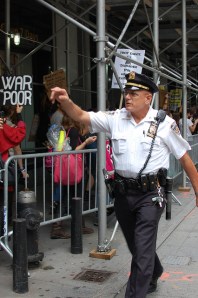 While the NYPD continues to make promises of an investigation of Deputy Inspector Anthony "Tony Bologna" Bologna's use of pepper-spray on unarmed female protesters during Saturday's Occupy Wall Street protests, he has yet to be disciplined. Despite videos showing two separate incidents of what appears to be unwarranted and abusive use of the weapon, Inspector Bologna still remains in active service. While that may seem like a grave injustice to women like Chelsea Elliott who were harmed during the attacks, the public outcry has been strong enough for the offices of Manhattan D.A. Cyrus R. Vance Jr. to launch a separate investigation into the case.
A spokesperson from the D.A.'s office told The New York Times today:
"The district attorney's office takes all allegations of police misconduct seriously…(the arrests are) being reviewed under the standard procedure."
While that might not sound very reassuring and pretty damn vague — there was absolutely no mention of a specific officer or incident — a source that had been briefed on the situation told The New York Times that Inspector Bologna's "episode" with the protesters were being investigated specifically due to the large amount of complaints the city received after the videos went viral.
Fun fact: Anthony Bologna works in the NYPD's counterterrorism unit, and according to one (anonymous) officer on the scene, wasn't intending to spray the women, but was aiming for "some men who he believed were pushing up against officers and causing a confrontation that put officers at risk of injury." Let's watch that video again, shall we?
It's true that we only have one angle of the incident to go on, but unless Inspector Bologna was aiming for the back of the head of the single male individual in black who was in the same vicinity of the meshed-in ladies, it appears that the spray was either indiscriminate, or intended for the women he was aiming for. Unless of course, the NYPD is referring to this second video, in which it is unclear who Inspector Bologna was spraying at…but since the police department's official stance is that pepper-spray was only deployed once during the protests, they are in a tough position of having to refer to evidence they won't admit the existence of in order to make that case.
At the time of this writing, the NYPD still has not responded to our inquiries regarding the second video.