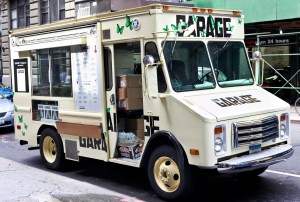 Dasha Zhukova's Garage magazine has taken to the streets this Fashion Week, with a modified Van Leuwen ice cream truck that distributes free copies of the magazine (retail price $18.99), Jeff Koons temporary tattoos and, lest the fashion attendees be disappointed should they somehow approach the truck not knowing what Garage is, ice cream. It's actually pretty great, though they did miss out on some great pun opportunities by not serving frozen yogurt, the more cultured of the two desserts. (Sorry!)
You may have seen it this weekend, when it was especially busy. They were at the Richard Hambleton afterparty at Indochine, the Carine Roitfeld party at Westway and various firehouses yesterday to commemorate 9/11.
If you'd like to peel the magazine's already infamous cover sticker yourself, the truck will be at the Standard Biergarten tonight, and the Richard Serra opening at Gagosian on Wednesday.