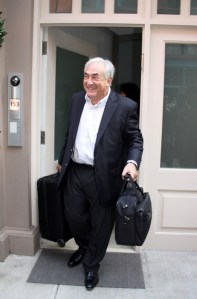 "I've never had anything else like this, it was so much more than any other celebrity-type deal that I've done," Robert Dvorin said of his fresh listing at 153 Franklin Street in Tribeca. "This was another level, this was worldwide. It was on the front page of every paper, a lot of papers all over the world. I don't know how many deals—I don't know if I'll ever have a deal like that again."
For $50,000 a month, or $13.995 million for good, Dominic Strauss-Kahn's house-arrest nest can become home.
That is actually less than the $60,000 monthly that Mr. Strauss-Kahn paid during his four-month stay—a fact nobody bothered to fact-check, apparently, as all previous news reports (including The Observer's) had the lower amount. It must be nice to have an extra $40,000 lying around. Mr. Dvorin, of brokerage Town Real Estate, said the reason for the premium was because "it was furnished, it was obviously a very high-profile deal that we had to do in one day, it was an overnight deal, and that was the number that the owner was willing to take."
Take a Tour of Dominque Strauss-Kahn's Tribeca Townhouse >>
He did not know if Mr. Strauss-Kahn had a favorite feature in the home, perhaps the fenced-off terrace where paparazzi spotted the ex-IMF chief sunning himself, or the six-seat home theater in the basement. The 6,804-square-foot redbrick townhouse was meticulously renovated after being purchased in 2007 for $6.79 million. That is part of the reason it has sat on the market since October 2009.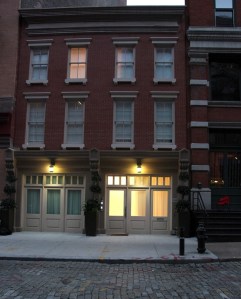 "We came very close to two or even three deals, but it's renovated to such a degree people can't imagine ripping anything out, so they have to like it as it is," Mr. Dvorin said.
Still, he said the interest in the property has been exponential since Mr. Stauss-Kahn moved out. There were even showing while the French financier was on the premises, but those were "more difficult." The biggest problem is the extra work required in screening prospective buyers and renters. "We do our due diligence, you know, Google, and make sure they can afford it, but we would do that anyway," he said. "Who knows if they're serious or just gawking."
"These don't come along too often, these kind of high-profile deals," Mr. Dvorin continued."I know a lot of developers do deals with celebrities. Who knows if that works? I've had people look at properties because they knew celebrities lived in the buildings. It gives a lot of attention, that's for sure. Whether it helps, time will tell, but I don't think it hurts. I've yet to hear, 'Oh, I don't want to live there because D.S.K. lived there.'"
Take a Tour of Dominque Strauss-Kahn's Tribeca Townhouse >>