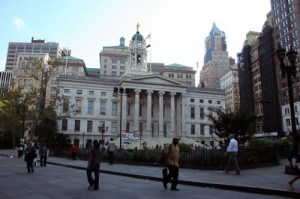 "This is a collection of buildings that make Downtown Brooklyn, Downtown Brooklyn"  Landmarks Preserveration Commission member Michael Devonshire declared in yesterday's meeting on the Borough Hall Skyscraper Historic District. "If there's controversy, it's a misunderstanding of the benefits of landmarking a district."
The area that Mr. Devonshire is referring to, is the proposed Borough Hall Skyscraper Historic District in Downtown Brooklyn. The projected district will span several blocs between Montague Street and Livingston Street, insuring the preservation of many neo-Gothic and neo-Renaissance buildings such as the Temple Bar building, 75 Livingston, and Borough Hall for years to come.
Yet, to the surprise of the Landmark Preservation Commission members, deeming the district historical, had become quite a controversy. Storefront owners, building residents, and even the Brooklyn Chamber of Commerce have expressed fears of increased renovation expenses and limits on signage, which they feel would discourage new businesses and inhibit the district from continuing to develop.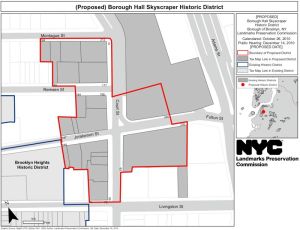 However, yesterday afternoon in a unanimous affirmative vote by all present members of the Commission, it's looking more and more likely that the Borough Hall Skyscraper Historic District will be next on the list of historical sites in NYC. Traditionally, the Commission has proved that proclaiming a district 'historical' hasn't exactly stunted development (see: SoHo, Greenwich Village, and pretty much all of the Upper East and West side). So what was the big to-do over preserving Brooklyn's behemoths? The commission didn't seem too sure.
Commissioner Michael Goldblum commented on the controversy by saying that the care and maintenance that residents had thus far put into their beloved buildings would be "respected, honored and given forth, and not in any way transversed or squelched"
Although the general tone was one of sympathy for the discontented Brooklynites, The Observer sensed that commissioners felt a bit slighted by the sentiments of the disgruntled. "The commission has a history of working with homeowners and landowners to preserve their properties" said Commissioner Fred Bland as he gave his vote. "A landmark doesn't mean it's frozen in time" he pointed out, responding to the development fears.
Although amending the proposal to exclude certain buildings was not considered, the commission made it clear that they aimed to appease the unhappy citizens once the district is deemed historical.
"I'm thrilled with the outcome" beamed energetic 75 Livingston resident, Philip Magnuson, after the meeting was called to a close. Within the next 120 days the final decision will be made as the City Council takes one last vote. Magnuson wishes for the best, hoping that city officials will "take today's impressive testimony into account."