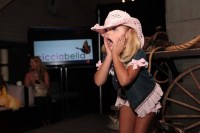 Gossip Girl character Chuck Bass may prefer old money penthouses on the Gold Coast, but actor Ed Westwick has shown a penchant for a different (though arguably equally pretentious) kind of real estate. Reports are out that Mr. Westwick has taken a place at The Edge, a Williamsburg highrise.
But it seems that Mr. Westwick, like his character, is having commitment issues. Although supposedly he was looking to buy a condo in the building, he ended up renting a place instead, The Post has reported.
The Edge, home to both bankers and hipster artists (the successful rich kind, not the starving kind) is one of Williamsburg's flashy new developments, as loved by young Manhattanites as it is reviled by locals. One of the best selling buildings in the City, the highrise boasts extravagances including a spa, a "movement studio," and a virtual golf system. Oh Williamsburg, what happened to you?
According to listings on StreetEasy, one-bedroom rentals are going for $3,750 per month, while two bedrooms are going for north of $5,000.