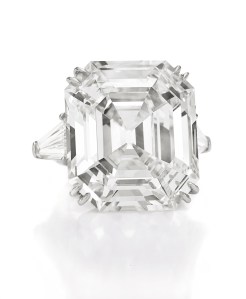 Christie's has released a handful of details about its greatly anticipated sale of Elizabeth Taylor's jewelry.
The Liz-a-palooza starts September 15 in Moscow, where the auction house will kick off a three-month touring exhibit of the jewelry. The auction itself kicks off in New York at an evening sale of 80 pieces on December 13, with additional sales to follow. In total, the sale will consist of 269 pieces, expected to bring in $30 million all together.
"From her most jaw-dropping diamonds, gems, and one-of-a-kind historic jewels, to cherished 'It's Tuesday, I love you gifts', and never-before-seen keepsakes, Elizabeth Taylor's magnificent collection of jewels promises to captivate the auction world this fall," said Marc Porter, Chairman and President of Christie's Americas.
Ms. Taylor's jewelry, as a concept, has a sort of mythos about it. Observe this commercial for one of her perfumes from 1992.
Between this and the Andy Warhol Elizabeth Taylor show at Gagosian, that's a whole lotta Liz for the fall, n'est-ce pas?