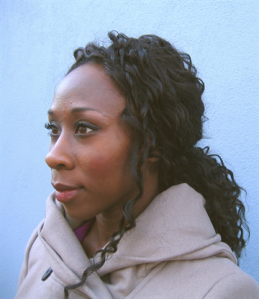 Esi Edugyan's Man Booker shortlisted novel Half-Blood Blues is narrated by an African-American jazz musician from Baltimore. Through a mix of flashbacks and first-person narration, the story recounts the mysterious disappearance of a black German jazz musician – son of a French-African father and a German mother – against a backdrop of Nazi Germany and Nazi-occupied Paris. Ms. Edugyan is Canadian, and her book is a story of Americans in Europe, but her novel failed to interest U.S. publishers as a first draft.
Her agent in Toronto, Anne McDermid, said she shopped a first draft of the novel to "more than a few" American publishers 18 months ago, including HarperCollins, the American publisher that had first option to buy (Half-Blood Blues was published by Serpent's Tail in Britain) but none of them bit. Ms. Edugyan was more fortunate in her native Canada, where the novel was published by Thomas Allen this month to positive reviews (even though, as the reviewer for Toronto's Globe & Mail noted, "Canada exists far from the landscape of this novel.")
American publishers proved willing to take a second look, however, after Ms. Edugyan's novel was longlisted for the Man Booker Award, a British literary prize awarded to writers from the Commonwealth and Ireland. "It was when she was longlisted that we started a multiple submission," Ms. McDermid told The Observer. "We had it out with many, many people in New York." When the book was then both shortlisted for the Man Booker and named as a finalist for the 2011 Scotiabank Giller Prize, a Canadian literary award, publishers suddenly proved eager to take a serious second look.
A deal to publish the book as a trade paperback with Picador was announced today. "I just got it last week and read it last weekend and fell in love with it completely," said Frances Coady, the acquiring editor, who added that Ms. Edugyan had an "original and fresh voice." Ms. Coady acquired the book in a pre-empt. "I just lucked out and managed to rush in there and get it," she said.
"One of the things that influenced us was that the imprint committed to doing it very, very quickly," said Ms. McDermid, saying that the book should be available in the U.S. by early next year and perhaps sooner. "Some of the bigger companies can't move that fast."