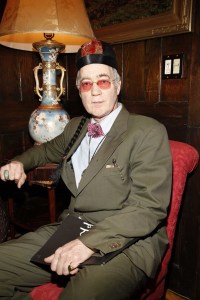 Yesterday, a Manhattan court granted the former National Arts Club president O. Alden James an injunction to postpone a hearing that would most likely lead to his eviction from the club's swanky Gramercy Park mansion.
Mr. James, who was head of the club for 25 years before the board decided to give him the boot this June, lives at the storied club with his twin brother, John, and their friend Steven Leitner, DNAinfo reports. We're sure the Club is none too pleased about the postponement, as it was recently revealed that Mr. James uses some of his apartments in the Tilden mansion to stockpile his impressive collection of stuff. The term 'hoarder' was even hurled around when the story initially broke, with grim pictures of Mr. James' cluttered apartments circulating the web.
Apparently, Mr. James has been renting rooms in the mansion at deeply subsidized prices. Reports by DNAinfo claim that Mr. James paid just $1,143 per month for his spread in the lavish Gramercy Park clubhouse, while his brother paid a mere $356 per month.
Mr. James isn't off the hook, however. The Manhattan District Attorney and the New York Attorney General's office are both looking into alleged financial misconduct that occurred during Mr. James tenure as President of the club.
The Tilden mansion at 15 Gramercy Park South was built in the 1840s, a Gothic revival brownstone that has faced the test of time with the help of several renovations.  Acquired by former New York Governor Samuel Tilden in 1860, the mansion was declared a city landmark in the 1960s, and in 1976 the governor's former home was officially named a National Historic Landmark . The National Arts Club has occupied the building since 1906.