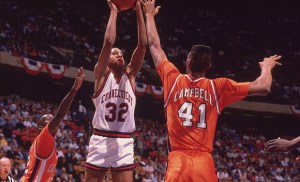 What's with retired athletes having second careers as financial criminals?It's not going anywhere, is what's with it. After all, it was just last month when former MLB All-Star third baseman Doug DeCinces was busted for insider trading. But eh, baseball players are practically taught to cheat that way; Joe Mauer steals signs in broad daylight!
But an NBA player running an entire ponzi scheme? That'd be impressive. And in former New Jersey Nets and Milwaukee Bucks player Tate George's case, it kind of is, especially when you consider the magnitude of the lies he told, and who he targeted: he told his investors he had $498M more than he had in his portfolio.
What kind of investors would believe that?
Per Bloomberg:
Tate George…was charged with running a $2 million Ponzi scheme that targeted ex-professional athletes.
According to the FBI, George had been running the scheme since 2005, and is looking at 20 years in the pen if convicted. He spent the money on initial returns to investors and then in supporting his lifestyle, which included (among other things) child support and mortgages.
So much for that $500M real estate portfolio of The George Group.
Or their website.
Or that October 2008 Portfoilio features entitled "Success, by George!" about what a great guy he is:
Since he left the hardwood, he has gone on to launch the George Group, establishing the stable and substantial real development portfolio of the company that currently exceeds $500 million. His business education began with a degree from the University of Connecticut and continued with a real-world education in Wall Street banking in New York. Since the founding of the George Group, he has built relationships and raised millions of dollars for an extended variety of clients in the fields of commercial development, real estate development, and international finance, as well as the entertainment and sports industries. George's company, which has six employees in New Jersey and Florida, has put $51 million into three public/private redevelopment projects.
To be fair, Tate George isn't entirely a goon. He did make one of the most incredible buzzer-beaters in NCAA history:
Sadly, Conn then lost by one point to Duke in the Final Four, who then went on to lose by thirty points to the legendary 1990 UNLV Runnin' Rebels team that consisted of Larry Johnson, Stacey Augmon, Greg Anthony, George Ackles, and Anderson Hunt, coached by Jerry Tarkanian, who was later forced to resign from coaching UNLV when a picture of three of his players in a hot tub with Richard "The Fixer" Perry—his name was "The Fixer," there's not much else to know there—ended up on the front page of the Las Vegas Review Journal. Maybe this drew itself deep within George; maybe Tate George held onto the idea that criminals come out on top in the end for just a little too long.
Or maybe he thought he could run a Ponzi Scheme and get away with it, and he didn't. Either way, he's pleading not guilty, and is currently out on bail living at his mother's house in Newark.
Ex-NBA Player Charged in $2M Ponzi Scheme [Bloomberg]
fkamer@observer.com | @weareyourfek