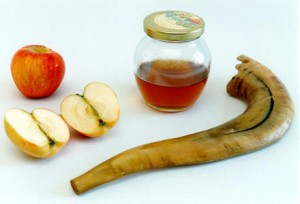 Tonight is Rosh Hashanah, the holiday that rings in the New Year on the Jewish calendar…which is why we're surprised that there aren't more splashy media parties celebrating the event here in New York. While it's not entirely true that all of the media is owned by five Jewish Bankers (who are all probably distracted by all the protestors right now), there are certainly enough of us in the industry that you'd think there would at least be a group mailing list on where to go for these occasions.

But for all of us not-really-practicing Jews who make an exception for the High Holy Days, here is our hasty field guide for the places to celebrate a last-minute Rosh Hashanah.
1. QEvents' "Quintessential Holiday Experience"
MJE East, 5 East 62nd St, New York, NY 7-11:55 pm
This is how you know that the party thrown by the Manhattan Jewish Experience is going to be the place for guilty Jewish singles tonight:
A) It was listed on Guest of a Guest's event calendar;
B) Using the P.C. term "Holiday" to describe one of the most important dates in the Talmud shows a gentrification on par with the stores calling Christmas lights "Holiday Decorations";
C) Cocktail hour!
2. Apple Stores
(various locations)
Apples and honey are the two main staples of Rosh Hashanah, so tonight is a good a time as any to go get your Macbook fixed. Sure, it's a metaphorical stretch of Apples to apples, but maybe if you spill honey all over your keyboard, God will count it anyway.
3. "High Holidays At The Loft"
The Chabad Loft,  144 Fifth Ave.
Killing two birds with one stone: You can both attend services, and tell your friends the next day that you were busy at "The Loft" last night. They will probably assume it's just a cool club they haven't heard of yet.
4. Occupy Wall Street
Zuccotti Park, between Broadway and Church streets and Liberty and Cedar Streets
Bring food and candles and make your own prayer books/drum circle. We're sure that just one shofar blast will be effective in creating your own DIY service.
5. Attend Congregation at Beit Simchat Torah
57 Bethune Street
An open-door policy is a nice relief from the usually pricey synagogue tickets, plus it's the hands-down hippest congregation in the city. LGBT-friendly and celebrity sitings galore, this is definitely the place to go if you need to tell your parents you're doing something for the holidays…even if that something is trying to spot Demi Moore during the Kiddush.