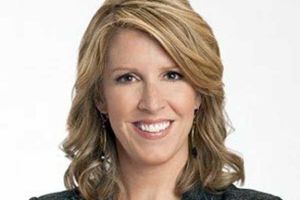 Back in November, New York's local WABC-TV weatherwoman Heidi Jones told police that she had been attacked and almost raped by a Hispanic man in Central Park, who then later followed her home and tried to assault her again outside her apartment. The event had taken place in September, Jones claimed, but she had waited to tell the police until the man had shown up again at her building to harass her.

The idea of being stalked by some rapist "What's the frequency Kenneth" psycho is terrifying enough on its own, but story gets really bizarre when the police did their own investigation and found out that Ms. Jones — who sometimes filled in as the meteorologist on Good Morning America —  had completely fabricated the story of her attacker. She was suspended without pay in December of 2010, and faced trial earlier this week.
"I made it up for attention. I have so much stress at work, with my personal life and with my family," said Ms. Jones during her trial Wednesday. She pleaded guilty to two misdemeanors of falsely reporting a crime, receiving five years of probation and 350 hours of community service. Those hours represent approximately how long our tax dollars went towards the police investigating the crime.
Despite her abhorent behavior, Ms. Jones seems upbeat. On Monday, the day she was arrested, she wrote on her Facebok page:
"Ready or not . . . it's going to be bitterly cold tomorrow and Wednesday, with highs sub freezing and a wind chill to make your toes shake! Be careful!"
Jones no longer works at ABC, though her lawyer has refused to discuss the terms of the parting. We're guessing it has to do with this whole "lying about getting sexually attacked" thing.