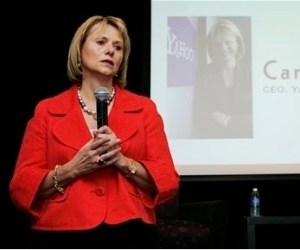 As previously noted, now-ousted Yahoo CEO Carol Bartz made quite the name for herself with—among other accomplishments—having a particularly quotable, profane mouth. After her firing Tuesday night, she did not disappoint. It's an appropriate closer for Ms. Bartz's tenure at the company.
January 25, 2009, to all Yahoo employees: A threat to "Drop kick them to fucking Mars."
During Bartz's first all-company meeting shortly after taking the helm, she threatened any employees who leaked information to the press with a one-way ticket to a far away place, by way of her heels, however stiletto'd.
April 21, 2009, to all Yahoo investors: There's "nobody fucking doing anything."
Despite supposedly promising her staff to hold in the curse words, Bartz let one slip out during a conference call as she vented about the lack of productivity in the company.
May 27, 2009, to All Things Digital's Kara Swisher: "Fuck You."
The sotto voce Bartz-bomb given to All Things Digital's Kara Swisher in the lead-up to their public interview at ATD's 2009 D7 conference was noted by many a journalist. ATD later posted the video under the headline "Carol Bartz, Live and Uncensored."
May 24, 2010, to TechCrunch's Michael Arrington: "Fuck off."
Carol Bartz and TechCrunch CEO Michael Arrington made news on the same week last May when she told the journalist-investor to "fuck off" during a public interview at the website's TechCrunch Disrupt conference.
September 8, 2011, to Fortune's Patricia Sellers: "These people fucked me over."
After being fired over the phone on Tuesday night, Bartz took to the press for one last shot at the company, and with it, some barbed language, telling Fortune that Yahoo "fucked me over." Bartz also gave color to a later call she had with Yahoo chairman Roy Bostock, asking him about the firing: "'Why don't you have the balls to tell me yourself?'"
Wherever Ms. Bartz lands, be it another company or a nice place to retire, her contemporaries will hopefully be tolerant of her language, less the world be deprived of her unique (at least, for the executive of a publicly traded company) public speaking style. Rare is the CEO who fully speaks their mind, even more so those who find such colorful, candid ways to do it.
fkamer@observer.com | @weareyourfek