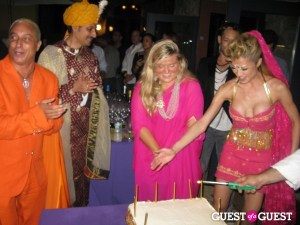 How much longer must city gossips repent for the sins of failed extortionist Jared Paul Stern?
Ever since the Daily News reported that Mr. Stern solicited $220,000 from billionaire Ron Burkle in exchange for protection from nasty Page Six items, the Post has come down hard on anything that could be perceived as pay-for-play.
Later that year, Corynne Steindler had to put the kibosh on the "Congrats On Your New Job at Page Six" party Thom Bar (a frequent setting of Page Six items) had planned for her.
"No frooze at this gig," she wrote friends explaining the cancellation, mere hours after sending off the invite via mass email.
After Post editor Col Allan got wind of the situation, via Radar, he was reportedly "on the warpath," and fired fellow Page Sixer Sarah Polonsky for similar "freebie-mongering" the same day.
Five years later, there's reason to believe the Daily News ethics police are lightening up a little. Last weekend Gatecrasher covered the Hamptons debut of India's Crown Prince Manvendra Singh Gohil, which was also the 26th birthday party of Gatecrasher reporter Carson Griffith, according to her former employer Guest of a Guest.
"I'm SO excited to see you on Saturday for my birthday fete in conjunction with the private reception at Sir Ivan's home to welcome India's Crown Prince Manvendra Singh Gohil to the Hamptons," she wrote in an e-mail to friends.
That detail is left out of the Gatecrasher item, which lists all of the invited bold-faced names who didn't make it due to the hurricane landing in New York that night.
Getting to the party proved tricky for other reporters, too: the luxury bus scheduled to ferry other reporters and partygoers out to Water Mill and back was canceled due to the weather.
But it didn't seem to deter guests of the second party.
"The party is Irene or shine (although, fingers crossed, the storm isn't supposed to hit till late that night!), because our host has generously offered to open his home to us in case of rain," Ms. Griffith wrote.
Only Gatecrasher and Guest of a Guest wrote about the party. The Wall Street Journal did a reported post-mortem later in the week, and Page Six was conspicuously absent.
The relationship between Ms. Griffith and Mr. Singh does not quite constitute paying for coverage, but one could say the party throwers bought coverage insurance. By hosting the birthday bash, they could be sure at least one prominent reporter would be in attendance. Does that constitute an ethical gray area?
"Carson and I did discuss whether to report that a birthday cake was presented to her at the party," Gatecrasher editor Frank DiGiacomo wrote to The Observer. "Ultimately, I decided to omit the information because I felt it had no bearing on Carson's reporting or the story we published."
Ms. Griffith did not return request for comment.