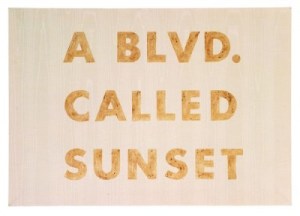 After years of planning, "Pacific Standard Time," a program that has helped organize simultaneous exhibitions and performances about art in Southern California at more than 60 of the area's museums, has arrived, with shows opening throughout this week.
The Getty Foundation, which has overseen the development of PST, provided partnering institutions with $10 million in grants to finance the exhibitions, catalogues and other programs. It's a sizable sum, a major undertaking–though it's just a fraction of the $45 million that it recently spent for a Turner painting at auction, as Los Angeles-based critic Andrew Berardini pointed out in L.A. Weekly this week.
Gallerist will be on the ground reporting from openings at museums and commercial galleries that have lined up to present shows for the remainder of the week and into the weekend, and will stop off at the opening of the Art Platform Los Angeles fair on Friday evening.
We'll be posting throughout the day–sometimes late into the night New York time–and providing updates through our Twitter account.