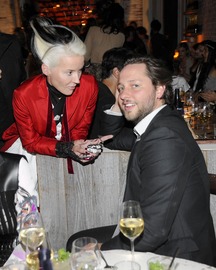 "Well, if you don't want to be up all night," AnOther editor Jefferson Hack said to the dinner in his honor Tuesday night. "Don't have the cake."
"Give me the cake!" a woman yelled.
"Calm down, calm down," Mr. Hack said.
His table—Dasha Zhukova, Carine Roitfeld, Daphne Guinness—laughed and clapped in approval. What were these "cakes" anyway?
AnOther, a fashion magazine, was hosting a little meal at Fat Radish, on the rain-slicked block of Orchard by Canal Street. There was plenty of Krug and such but once a platter of certain goodies emerged the full flutes got pushed aside for cubes of Fruit Loops and Marshmallows, baked with plenty of, um, love.
"You know there's hash in those, right?" said the woman next to us.
We were halfway through one of them.
"Oh, really?" we responded.
We were having a smoke outside when the drugs kicked in. Mellow but there, a swirling giddy confusion that floated out in front of the booze in the ocean of our drunkenness. It was a good hash brownie.
"Oh how are you!" The Honourable Daphne Guinness said to us as we passed her table. We had spoken the night before, at the opening of the Steven Klein's "Time Capsule," and she continued to voice her effusive praise for the installation, before we cut her off by offering to grab some champagne.
"Actually, what about some tequila," Ms. Guinness said. "Neat."
We obliged, and upon delivering it, Alexander McQueen's one-time muse downed the drink in one gulp.
Eventually the party migrated south into the Chinatown deeps, where AnOther would carry on at Pulqueria, an underground but roomy lounge that's just opened down below Apotheke. And the lingering effect of the "cake" mixed with the aromatic mixologist-crafted cocktails, making for a night that spilled out into the winding, choppy Chinatown streets.