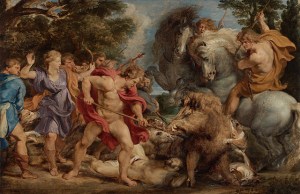 A week after recovering a version of 17th-century master Peter Paul Rubens's The Calydonian Boar Hunt that was stolen from a Belgian museum in 2001, Greek authorities confirmed that they had charged the couple who were in possession of the painting with money laundering.
The two suspects are a 64-year-old man and a 40-year-old woman, according to the Associated Press. It is not yet clear how they came to obtain the painting, which had been plucked from the Museum of Fine Arts in Ghent, Belgium, in 2001, by three masked bandits.
At the press conference, the director of the Greek National Gallery of Art, Marina Lambraki-Plaka, described the two as "amateurs," and noted that they had actually left the original Ghent museum identification sticker on the back of the painting.
As The Observer reported earlier this summer, the majority of stolen artwork is not recovered. Though New York police have named a suspect who they believe is behind the theft of fashion entrepreneur Marc Ecko's KAWS painting, the mustachioed man and the artwork, which some say is work as much as $100,000, remain at large.