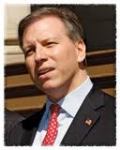 Former G.O.P. comptroller candidate Harry Wilson was sworn in today as a member of the Advisory Committee of the Pension Benefit Guaranty Corporation, an independent federal agency responsible for insuring benefits under private defined benefit pension plans and for allowing individuals to search for lost pensions.
Mr. Wilson was appointed by President Obama  for a term that expires in 2014.
"Harry Wilson has a deep knowledge of corporate restructuring, and highly relevant government experience," said PBGC Director Josh Gotbaum.  "This background gives him invaluable insight into the challenges we face at PBGC. I look forward to his wise counsel as a member of the Advisory Committee."
In 2009, Mr. Wilson was a senior member of the US Treasury Department team that oversaw the restructuring of General Motors and Chrysler after a career as a private equity investor.
In 2010, he ran a close race against incumbent Democratic comptroller Tom DiNapoli, losing by less than 3 percentage points.