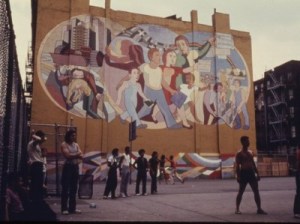 A gigantic mural by the renowned Mexican painter Arnold Belkin that is emblazoned on the side of a playground in Hell's Kitchen and has deteriorated in the 39 years since its creation can be restored, the Heritage Preservation organization announced.
But there is a problem: repairing the mural will cost at least $70,000, and no one has yet to offer funding.
The Washington, D.C.-based group, which is not to be confused with the conservative think tank known as the Heritage Foundation, reached that determination after examining the state of the work, which has chipped and faded in many places, last week. (The AP has photos of its current state.)
The piece in question, called Against Domestic Colonialism, is located in the May Mathews/Alexandra Palmer Park, between 45 and 46th Streets and between Ninth and Tenth Avenues. Some experts believe it may be the only outdoor work that Belkin, died in 1992, produced in the U.S, according to the wire service.
The late 1960s and 1970s saw many community murals–works created by artists in consultation with, and with assistance from, residents of the local area–painted throughout New York. Using a grant from the McGraw-Hill publishing company, Belkin worked with 10 teenagers to create his large-scale mural.
In 1968, New York magazine profiled a number of mural projects in an article called "Graffiti Are Growing Up." Many of the works it depicted, including a five-floor mural by the Pop artist Allan D'Arcangelo in the East Village, have since been painted over or destroyed in construction projects.
The AP provides this description of Belkin's work:
"Split into three separate scenes framed by circles, in the first is a bulldozer against a backdrop of skyscrapers depicting the threat of development; in the other two circles are images of multiracial groups of people looking forward. They hold up flowers, a city block with trees and signs.

"'We the people demand control of our communities,' reads a sign held up by one woman."
It is, to put it bluntly, not exactly an apolitical work. Will someone come forward to save it?