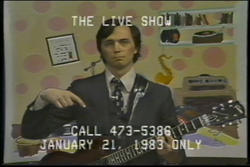 Paul McMahon came to The Observer's attention earlier this year at an exhibition on public access television at the Museum of the Moving Image in Queens. Mr. McMahon, who was also included in the Met's 2009 exhibition "The Pictures Generation," was the highlight of a film that walked through some of public access tv's stranger moments over the last several decades. He had on a tuxedo, held a Gibson SG and sang a song called "How I Love Your Paintings." He sang:
"How I love your paintings/They thrill me so much/I like the one on the left/I'm screaming for your paintings."
Unfortunately, there is no video of this floating around the internet, or The Observer would share it with you.
But! This Saturday, you can catch Mr. McMahon at The Kitchen's Block Party on West 19th Street. The show is called, Paul McMahon, Rock 'n' Roll Therapist. The gallery Specific Object, which has been closed for the summer in a much more high concept way than most places, will be sponsoring. In it, Mr. McMahon will make up songs about problems the audience members are having. Perhaps unrequited love for someone's paintings will be among these issues, though The Observer expects some new material. Our press release states: "So far they have all been successfully treated, so don't give him a problem you don't want to lose."