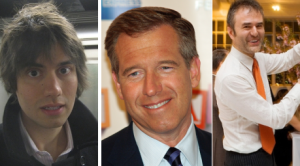 NBC Nightly News anchor and regular cut-up Brian Williams is currently having lunch at the Gawker offices right now, when he's not staring at their televisions (shout out to the early hominids). How'd he end up there?
Word has it: Brian Williams is—yes—a professed fan of Gawker, and was subsequently introduced to Nick Denton through a mutual acquaintance,  Brian's daughter Allison Williams' current beau, College Humor founder Ricky Van Veen. Brian Williams and Nick Denton then became email penpals, and a lunch was set up for the two of them and some editorial staffers over at Gawker.
Mr. Denton was contacted for comment on this groundbreaking meeting of the minds, but he's likely breaking bread (literally) with Williams at the moment, and wasn't able to get back to The Transom on the fly.
And now you know: This is how your media power lunch sausage is made. Never underestimate the power of gossiping about one's love life and the byproduct of ego-flattery (ergo, networking) that comes with it.
fkamer@observer.com | @weareyourfek