For too long, it seemed like the 9/11 Memorial might never get built, certainly not in time for 10th anniversary of the attacks. (There is a reason The Observer categorizes all our ground zero stories as "The Neverending Story."  The 9/11 Memorial opened to the public last week, but with access tightly regulated—it's still a very active construction site—it can be a little hard to believe it. But in case there was any doubt, we now have that most official of proof something exists: the memorial has been added to Google Maps.
The Observer spotted the change earlier this week, and what's so striking is that it not just a park, but there are the waterfalls, too, and some of the buildings on the site, too. The exactitude, down to the eventually-to-be-reopened streets, is remarkable. We reached out to Google to find out when the thing went live, and it turned out to be the same day the memorial opened:
Google is committed to providing our users with the richest, most up-to-date maps possible. As part of this effort we continuously explore ways to integrate new information from our users and authoritative partners into Google Maps. We have built our map from a wide range of authoritative sources, ranging from the US Census Bureau to commercial data providers, and have used satellite, aerial, and Street View imagery. In this case, the edit for the 9/11 memorial site was made by a map maker user on Sept 12, 2011.
It's a memorial to the memorial.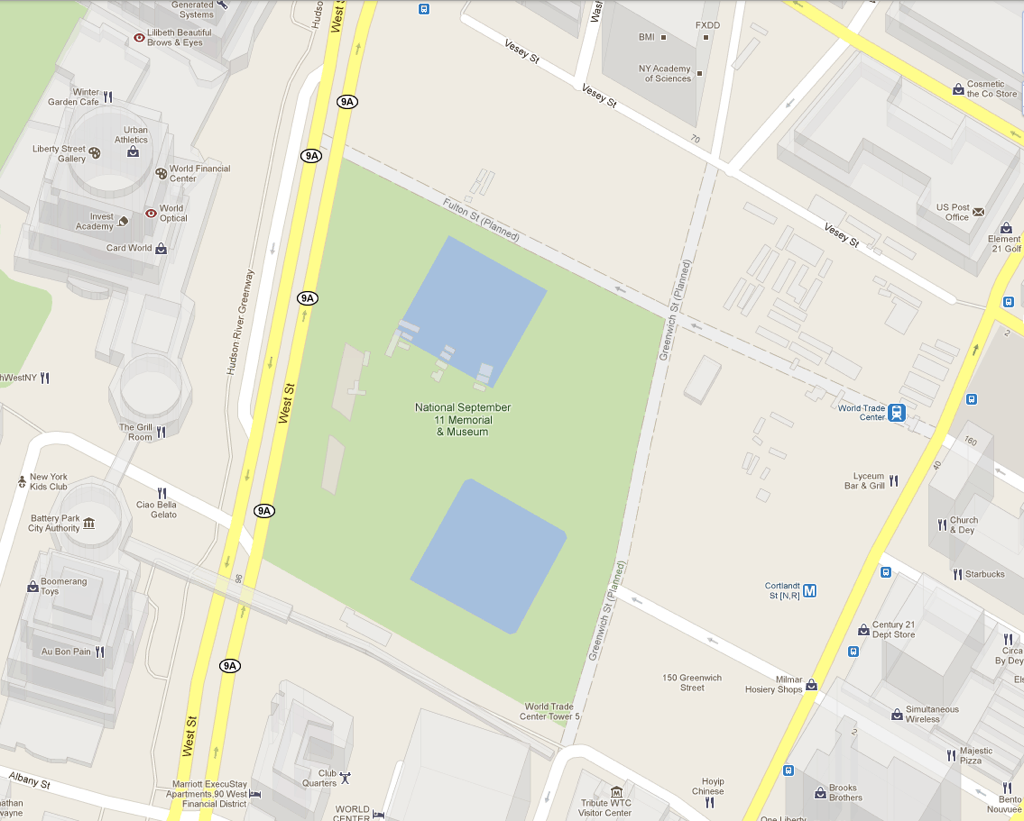 (Click to zoom.)