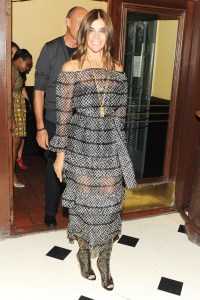 "No, I don't own any Richard Hambleton," Alberto Mugrabi, whose family owns close to 1000 works by Warhol, yelled into The Observer's ear. "But maybe I'd like to buy some?"
We had run into Mr. Mugrabi, the party-hopping titan of art collecting, at Indochine last night, where Vladimir Restoin Roitfeld and Andy Valmorbida were celebrating Mr. Hambleton's retrospective — their last exhibition of the artist with partner Giorgio Armani — with the kind of rager befitting the locale. It was so smokey and loud just close your eyes and, hey, it's 1983. And that was, after all, the artist's heyday.
"You know he's here, right?" we told Mr. Mugrabi. "Richard Hambleton."
The man who palled around with Keith Haring and Jean-Michel Basquiat — and can claim Banksy as a spiritual descendent — was indeed hunched in one of the enormous booths, a black tie poking out of his white sweater. Nicky Hilton sat one booth over.
"Oh, wow," Mr. Mugrabi said. "Do you want some vodka?"
The art collector then grabbed the nearest bottle, removed the cap, and took a vigorous swig. He handed it to us and we did the same.
Yes, these handles of liquor — and bottles of Champagne, too — seemed to sprout up at Indochine like weeds. And yet Lindsay Lohan resisted the temptation! Instead she sat at the long table in the back, not a single cigarette to dangle from her lips, removing and re-affixing a silver ring from her finger.
We had been here before — Mr. Restoin Roitfeld and Mr. Valmorbida held the after party for their RETNA show, in February, at Indochine as well — that didn't matter. By the time Owen Wilson showed up, perhaps it was all a bit too much for him (he's sober these days, and even managed to avoid temptation Kenmare, where we saw him late Thursday night).
"Oh, don't mind me," Mr. Wilson said to us outside, where we were enjoying the novelty of having a cigarette outside. He removed his bike lock, mounted it, and biked away.
We took his lead and jetted to Electric Room, where the new subterranean Meatpacking venue played host to a party for Jade Jagger. Theodora Richards stayed at Indochine and avoided a Rolling Stones kids reunion, but Ms. Lohan made the trip, as did party hosts Mr. Restoin Roitfeld and Mr. Valmorbida.
And Courtney Love was there, again.
"Are you going to Westway tomorrow?" she asked us. "You can be my plus one if you" — she turned toward a diminutive girl walking into Electric Room –"Oh heyyyy! It's been so long. Nate, have you met Mary Kate?"
Mary Kate Olsen introduced herself.
"I haven't seen you since, what was it, that kimono party at that apartment?" Ms. Love said.
"I believe so," Ms. Olsen said.
Then we went inside, where after an hour of more drinks and dancing in the Britannica-inflected box full of blue glow, we ran into Ms. Olsen one more time.
"What was that Kimono party?" we asked.
"Oh," she said, smiling. "It wasn't really anything."