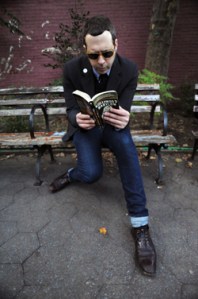 "I've not left Manhattan in two and a half years," Marc Spitz told The Observer over breakfast in a chic West Village café last week. "When I turned forty, I was just like, buckle down, do good work, do whatever it takes."
He paused and rubbed his forehead, "Don't drink with actors."
The 41 year-old music journalist-cum-biographer-cum-novelist-cum-playwright laughed from behind his tortoise-shell sunglasses which were concealing a hangover. Though he visibly hasn't been adhering to his own advice, his writing, as of late, has certainly been prolific. In the last ten years he has written three novels and three biographies, the latest of which, Jagger: Rebel, Rockstar, Rambler, Rogue, is on shelves today, published by Gotham Books.
His books were his way of making money when print journalism wasn't able to pay the bills. "It's just like a super-sized cover story. And I got really good at writing them," he reasoned, referring to the 15 or so he has written for Spin. "So I thought, 'O.K.,' what's the next step up from doing this? And so [biographies] was the answer to that question."
But he has kept up with his roots in rock journalism all the while, which began way back when you had to go to Tower Records to find a song or an album. "Now, if you hear a song, it doesn't haunt you because you can literally snipe it out of the air and it'll tell you what it is" – you just hold your phone up to the music and use Shazam to find out what it is.
The music and journalism industries have altered so much that Spitz believes the job he once did no longer exists. He likens himself to a primitive hunter on a modernized terrain: "I'm just holding the gun and like, 'Where's the buffalo?'" Although he resents going straight to the internet for a song, Spitz is not technologically illiterate by any means, and blogs daily for Vanity Fair.
He always wanted to write plays, though, and you can tell they are what matters to him at the moment because he remains near the theater, even though none of the 12 or 13 (he can't remember exactly how many) he has done since 1998 have made any money. The plays haven't fared well away from what Spitz called their off-off-Broadway turf in L.A. or at The Aspen Comedy Festival, where they have shown to poor reception.
"It didn't translate," he said simply.
When he started out, the Ludlow Street scene where his plays were put on was one of theaters instead of bars. "It was still a little dirty and druggy and the plays were dirty and druggy," he remembered. Spitz and his director and actor friends still inhabit that scene, but it is rapidly evaporating, leaving them alone in the once crowded neighborhood. "There's a sort of a sense of – like, you know, where's everyone else? This is supposed to be New York."
Still, Spitz later pointed out that when Dylan moved here in the 60s, there were people saying, "The scene is dead."
"The scene is always dead and always reinventing itself," he rejoined.
But coverage of the scene is certainly waning. At the beginning of their theatrical foray, they were featured in Village Voice and The New York Press and some of their plays even moved into bigger theaters. But now they're back in the smaller theaters where they began.