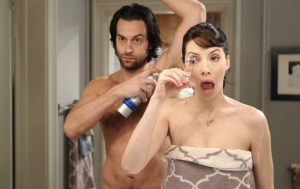 Ouch. Here we thought were in the post-Bridesmaid era of empowering female comedy, what with TV's new fall lineup revolving around such quirky leading ladies as Zooey Deschanel (Fox's New Girl), Kat Dennings and Beth Behrs (CBS' 2 Broke Girls) and Whitney Cummings (NBC's Whitney). But maybe America just isn't ready to have a sitcom where boys aren't the main focus, since despite not airing until September there is already an online petition to get Whitney canceled.
In an open letter to NBC titled "Cancel NBC's "Whitney" Before It Cancels Us," (which…what?), the argument reads:
This is a petition asking NBC to cancel "Whitney" before it airs, and to make a big spectacle about how they were only just kidding and that they'll keep looking for good programs to put in that time-slot.

Reasons "Whitney" Already Sucks:

1. It's multi-cam and filmed in front of an audience encouraged to laugh.
2. She considers herself one of those "edgy" comics.
3. It might as well have Paul Reiser in it.

Please, let's get rid of this show before we have to live knowing that something like this happened on television, forcing us to give up on having and raising our children because it's all gone to shit, it's all shit anyway man… I can't even do this anymore… Somebody put money behind this shit.

Sincerely,
So far there are only nine signatures to cancel Ms. Cummings debut program, which deals with a character named Whitney (d'uh) and her boyfriend who aren't married but live together. Okay, so that concept seems pretty thin, but so is the argument that a multi-cam sitcom with canned laughter is by itself a reason to nix a program. (How I Met Your Mother and Two and a Half Men are still doing pretty well, right?) And yikes…using the word edgy as an insult for a female comedian is the equivalent of saying Barack Obama is articulate.
And yes, the previews for Whitney are pretty cringe-worthy, mostly because Ms. Cummings is an observational stand-up comedian, not a comedy actress. Though the show's scenarios are based on bits from her act, watching the premiere one gets the sense that at any point Whitney may just turn to the camera and mug, "Am I right, ladies?"
We're willing to give Whitney the benefit of the doubt…it's certainly doesn't look worse than the twee-tastic New Girl, in which we're supposed to believe that Zooey Deschanel is too awkward to land herself a boyfriend. Because hey, when we're not crying about periods or boys, there is nothing us ladies like to do more than make jokes about them. Alex Borstein know what I'm talking about!