Congratulations to Salman Rushdie, who finally gained his official Twitter handle after shaming another person off of it. Mr. Rushdie joined Twitter this week but had to take the handle @SalmanRushdie1 because some goofball had already been tweeting out from @SalmanRushdie. As of yesterday, it was still being reported that Mr. Rushdie was verified at @SalmanRushdie1, but had sent a message to the faux-tweeter: "Who are you? why are you pretending to be me? Release this username. You are a phoney. All followers please note."
From the looks of the new verified account logo, the author of The Satanic Verses has driven the squatter off his digital property, and is now tweeting from the @SalmanRushdie account.  Friends include Mia Farrow, Bret Easton Ellis, Margaret Atwood, and Neil Gaiman. His last tweet from two hours ago: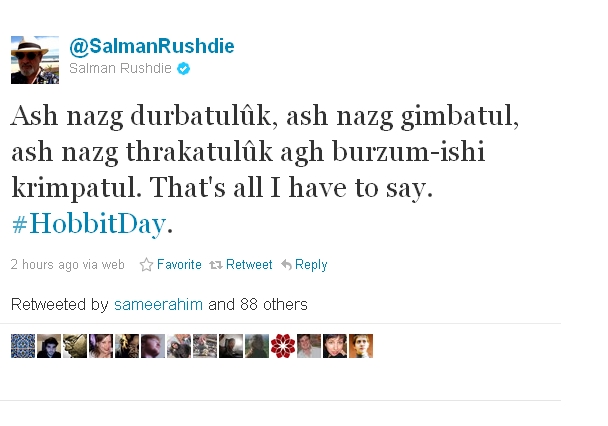 Luckily, there is no fatwā on Mr. Rushdie in Middle Earth.
Update: Mr. Rushdie has responded to The New York Observer regarding his new status: "I'm happy to have lost my 1."