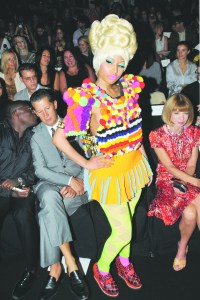 It's hard to say goodbye to summer. We'll miss the traffic jams en route to East Hampton, the lingering smell of street fair sausages on our block, the earthquakes, the hurricanes, the Mets … On second thought, we're ready for Fall. But there's too much to do! Whose idea was it to overbook the US Open, Fashion Week, and the decade memorial of 9/11, anyway? Barack Obama knows what we're talking about: no one watched his major job speech because it happened to coincide with a NFL's kickoff season and David Vitters whined to the Washington Post that he had to miss a football-watching party because Harry Reid was making all the Senators vote that night.
Everyone's overscheduled. Jennifer Lopez's secret date with Bradley Cooper at Per Se happened to overlap with Comedy Central's Roast of Charlie Sheen on Saturday, and there were two more Republican debates. Two of these events were horrifying but we won't say which ones. Michele Bachmann and Rick Santorum were angry about Rick Perry personally injecting children with HPV–sorry, a vaccine to prevent HPV. (We were a little thrown by the aggressive gesticulations of faux outrage.) "Little girls don't get a mulligan," said Ms. Bachmann, making Mitt Romney look like the only sane Republican in the room, which is akin to being the only Nicki Minaj in a Lincoln Center fashion show squashed between Anna Wintour, Stefano Tonchi, and Edward Enninful.
You might be feeling overwhelmed, but refrain from taking your ball and going home, like Michael Arrington. Now that AOL has ousted him and taken TechCrunch for its own, you might expect a statement with a well-placed dirty word a la Carol Bartz, Yahoo's firecracker ex-CEO who knows how to leave with a bang (or at least an f-bomb). And she's not the only one experiencing job dissatisfaction of the worst kind. Groupon's being sued by some of its employees, Talking Points Memo got cyber-hacked (if only momentarily), and Michael Bloomberg has apparently never forgiven David Remnick for refusing him a New Yorker cartoon caption.
But most of the expletives issued this week were produced by stunned Fashion Week partygoers who were expecting Vera Wang and got Odd Future's Tyler the Creator, or had the misfortune of running into Kim Kardashian spinning with Jersey Shore's resident Pokemon Pauly D. at Dash before the police had to come and stop a mob from bum-rushing the flagship store during Fashion's Night Out. But really, it makes sense. We need the NYPD more than ever right now, You never know when Mr. Sheen will visit the Plaza again.
And speaking of questionable behavior, Donald Rumsfeld canceled his New York Times subscription over Paul Krugman's September 11th essay, which may have also been questionable. (We'd suggest, as Mr. Krugman did, that we're not going to allow comments on this column for obvious reasons, but who are we kidding? Of course we are!) But we secretly think Mr. Rumsfeld is shedding a tear over Sam Sifton taking leave his position as restaurant reviewer. No word yet on who'll replace Sifton on the foodie beat, but we hear Ms. Bartz is available, and we imagine her choice selection of adjectives for anything she doesn't like would provide hours of entertainment for the Times copyediting desk. If she doesn't already have too much to do, that is. After all, it's busy season.