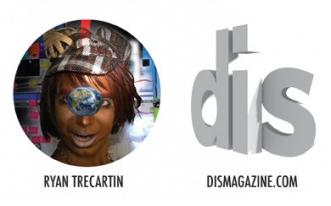 Where do we go from here?
It was still the last light of a late August day but the cement courtyard of PS1, in Long Island City, had already been taken over by video artist Ryan Trecartin and his massive DayGlo cadre of manic creative types to celebrate the closing of his show Any Ever, the subject of breathless praise all summer long. The name of the party, hosted by Dis Magazine, was "DIS_RT [REALTIME/RETWEET/RYAN TRECARTIN]"
Mr. Trecartin had brought his crew: the non-actors who populate his films in gloppy, garish makeup, the set-designing collaborators, the pint-sized would-be tween poppers, the female bodybuilders flexing on stone blocks, transvestites draped in velour gripping their cocks for people taking pictures on iPhones, go-go dancers, rotund booty-drop queens, scene kids, bodyguards, curators, men in head-to-toe white spandex spangled with Vita Coco ads no one paid for, kids in snapbacks and Tokyo drag racing jerseys, kids in capes and ski goggles hauling around leather luggage stuffed with nothing but stones, a man with a backward wig and a Container Store bag with a doll's head poking out, a man slinging around his neck a blinged-out necklace of the YouTube logo and a DJ by the name of Telfar, who is an actor in Mr. Trecartin's films.
"G-O-O-G-L-E," sang the unconscionably loud autotuned voice blasting over the speakers. Telfar was behind the decks. "Google me, Google me."
It was the chorus of a song Mr. Trecartin may have written. He pens all the soundtracks to his videos (call them YouTubeCore—they're inspired by viral videos, slick as Rebecca Black but catchier). A moment later another Trecartin actor walked by. And then another. But could we be sure? Everyone present reminded us of his films, walking around in get-ups evoking cracked suburban landscapes full of familiar domestic tropes (Mr. Trecartin is from Webster, Texas) skewed and violated to thrilling heights of grotesquery. We had seen these people before. We had seen them in bad dreams.
"Where are the cameras?" The Observer asked a friend.
We were standing by the bar. Lizzie Fitch, Mr. Trecartin's primary collaborator, had just butt in front of us to order a red wine, triggering flashbacks to scenes where her best-known character guzzles from a box of vino.
We darted our eyes at the corners of the ceiling.
"Surely Ryan's filming this," we repeated.
How could he not? All of the elements of his films—a fluid take on gender and sexuality, outre slash-cut female attire suggesting rebellion or perhaps father complexes, the pervasiveness of the Internet, the odd viral kid-pop sensation, reality television, the Mad Lib cut-and-paste of verbal cliché into gibberish—were manifest in real life. Absent were the seizure-inducing jump-cuts, although after enough drinks, you could experience them as well.
The only thing to fear was that maybe there actually were no cameras, that we weren't, at that moment, helping Mr. Trecartin make art, but simply embodying the very insanity that his art is meant to expose and parody. Were we collaborators or subjects? Or worse, party-goers and nothing more?
"Isn't this just the greatest time!" Mr. Trecartin, who just turned 30 years old, asked The Observer. He was resolutely sunny, in a burnt orange tee shirt and shorts, with a disposition at odds with the perverse content of his art. His smile never faded. He might have been the most normal-looking person there.
"Oh, can you wait just a second?" Mr. Trecartin said, his arms slung our shoulder. Paris Hilton's "Stars Are Blind," her first single, boomed over us. "Lizzie's lost her bag… Oh wait, she found it!"
Ms. Fitch, his collaborator, who was wearing a conservative denim dress, bounded over.
"This party, isn't it, isn't it like a drug?" Ms. Fitch said.
Then, a pasty 15-year-old with floppy blonde hair, scrawny and unsmiling, was boosted up on top of a Cadillac Escalade parked next to the stage. He wore a camo Under Armour tee, a chrome poncho and chunky black boots. His Christian name is William Neibergall, but since he began rapping he's gone by Glasspopcorn.