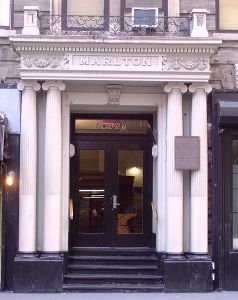 Marlton House, once a literary flophouse and sometimes home to Jack Kerouac, Gregory Corso, Neal Cassady and Edna St. Vincent Millay, then a dorm for students at the New School that maintained a very un-dormlike character, will now become a schmancy boutique hotel. The Post reports.
The Economist weighs in on the state of the book industry, beginning by describing the new bookshelves at IKEA, designed to display books as "ornaments, tchotchkes and the odd coffee-table tome—anything, that is, except books that are actually read."
The Wall Street Journal headlines its fall book preview with Haruki Murakami's 1Q84 which was condensed from three consecutive volumes to one for the American market, with translation of separate parts of the book done by two different people.
Waterstone's, the biggest bookstore chain in Britain, is launching an e-reader to better compete with Amazon, reports The Bookseller.