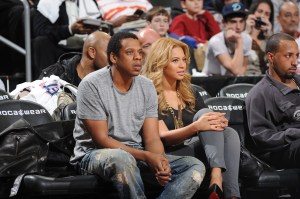 One year from now, Jay-Z will be performing in his hometown Brooklyn. That's the good news. The rapper's love of basketball has led to his owning a small stake in the former New Jersey Nets, which from now on will be the Brooklyn Nets. (We would have really preferred it if owner/Russian billionaire Mikhail Prokhorov had actually named the team after his girlfriends.)
The group will find its new home at the soon-to-be-built Barclays Center on Flatbush and Atlantic Ave., as part of Bruce Ratner's Atlantic Yards Project that's been going so well. Jay himself announced the official name in a "brief and anticlimactic" ceremony in New Jersey today.
So starting on September 28th, the pre-season for the Brooklyn Nets  will include three weeks of festivities, including eight concerts by Jay-Z. Hopefully this will give Jay comped front-row tickets to the games, as a season VIP pass will run customers $15,400. And what happens if Jay and Beyonce are still photographed at Knicks games when he's telling everyone else to switch their allegiance? Does that hurt his endorsement in a team that he's soon to become the campaign face for? (Get ready, lower Manhattan!)
This is why guys like Jay-Z need to follow their own advice and not be a businessman, but a business, man.