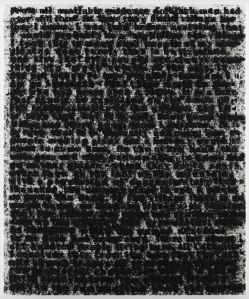 Despite the massive hype leading up to the event, Ben Stiller and David Zwirner's Artists For Haiti charity auction at Christie's this evening exceeded expectations with the 27 works offered selling for a collective $13.7 million, beating an earlier estimate of $10 million. Most pieces  exceeded high estimates, and four artists saw new record prices for their work at auction — Adel Abdessemed, Raymond Pettibon, Nate Lowman and Glenn Ligon, that last piece selling to Jennifer Aniston for $450,000. The prices realized were all at hammer, as well, since Christie's had waved its fees for the evening.
At the podium was the charismatic Andrea Fiuczynski, president of Christie's Los Angeles, in a black and silver skirt suit. Because charity auctions allow for a bit of playfulness, and because a Nate Lowman American flag painting sat to her right, she often conjured a boxing announcer, and the celebrities in the front row — Ms. Aniston, her boyfriend Justin Theroux, Mr. Stiller, his wife Christine Taylor and John McEnroe — brought an appropriately hefty crowd to the back of the room.
"All of you at the back can jump in at any time," Ms. Fiuczynski joked, after a few lots.
The first record-breaking price came for Mr. Pettibon's No Title (From life to…), which sold for $760,000 and was featured on the catalogue cover, though that new record was soon surpassed by No Title (But the sand), which went for $820,000 after a three-minute bidding war between dealer Nicholas Acquavella, a phone bidder and Guy Bennett, former Christie's worldwide head of impressionist and modern art, who represented another bidder on his phone.
Mr. Bennett sat at the front of the room, just behind Mr. Theroux, and Mr. Acquavella sat at the very back, bidding with a series of nods. At $730,000, Alexander Acquavella, sitting next to his brother, flipped the catalogue open to the middle to better examine the piece, which Mr. Bennett eventually won.
Not long after that, Mr. McEnroe found himself competing against Eleanor Acquavella for a piece by Zhang Huan. At $210,000, Mr. Stiller, who had been consulting with Mr. McEnroe, removed his glasses.
"The glasses are off," Ms. Fiuczynski prodded. "This is getting serious."
After a $230,000 bid by Ms. Acquavella, Mr. McEnroe attempted to bow out. Mr. Stiller rose at the front of the room and pretended to whack Mr. McEnroe with his paddle in exaggerated motions.
"I didn't know you were a quitter," Ms. Fiuczynski said to Mr. McEnroe, eliciting another bid. At $250,000, Ms. Acquavella won the lot, and the inevitable jab finally came.
"You can't be serious," Mr. Stiller said loudly, to titters.
"You can't be serious," Ms. Fiuczynski repeated on the stand, enunciating clearly.
Mr. McEnroe picked up a piece two lots after that, a sketch of Jay-Z at Glastonbury by Elizabeth Petyon for $85,000. At $450,000, Ms. Aniston beat Mr. Ligon's previous record of $434,500, realized at Sotheby's in September 2010.
Mr. Stiller picked up a few works of his own, the Lowman, a Jeff Koons, and a Martin Kippenberger among them. Flipping through the catalogue before the auction with The Observer, he'd pointed to the Koons as something he wanted, and spoke excitedly of other pieces that had attracted interest from others.
"You're going to give Larry Gagosian and Bono a run for their money!" we said, referring to the pair's charity auction in 2008.
"That's my goal," Mr. Stiller chuckled.
Reached for comment after the show, Amy Cappellazzo, chairman of the Christie's post-war and contemporary art department, seemed wowed by the results, the $13,662,000 that will go to rebuilding Haiti's devastated infrastructure. During the auction, she'd been enthusiastically manning the phones.
"I sent David [Zwirner] a text in the middle of the auction that said 'You are definitely going to heaven for this,'" Ms. Cappellazzo said.
All auction price research courtesy of Artnet.
Correction An earlier version of this story misstated which Pettibon appeared on the auction catalogue's cover.