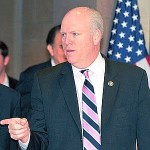 Joe Crowley is both the head of the Queens Democratic Party and the finance chairman of the Democratic Congressional Campaign Committee, and he was wearing both hats this afternoon when he sent out in urgent mailer asking for donations to help David Weprin's congressional campaign.
[Republican Bob Turner] is a radical right-winger ready to fight alongside John Boehner and the tea party. He has promised to push for drastic budget cuts and is even on record as rejecting the Republican's budget and plan to end Medicare because it did not go far enough," wrote Mr. Crowley in a DCCC email. "The election is just one week from today. We must immediately raise $25,000 in rapid response funds to help David fight Republican attacks in these final days."
Other than Mr. Weprin, perhaps nobody has more riding on this election than Mr. Crowley. He doesn't much like to talk about his leadership of the county party, but a Weprin loss would be a crushing embarrassment, especially after Democrats there have lost a number of primaries to WFP-backed candidates and have seen Queens Republicans make gains in the City Council.
Full email below
House Republicans are investing heavily in an upcoming special election in New York in the hopes of electing another radical right-wing member to their caucus. We cannot afford to let this happen.

Republicans are trying to wrest NY-09 away from Democrats with smears and misleading attacks. Democratic candidate David Weprin is spreading his message that everyday Americans, families and seniors, not millionaires and Big Oil, should come first.

Meanwhile, his opponent is a radical right-winger ready to fight alongside John Boehner and the tea party. He has promised to push for drastic budget cuts and is even on record as rejecting the Republican's budget and plan to end Medicare because it did not go far enough.

The election is just one week from today. We must immediately raise $25,000 in rapid response funds to help David fight Republican attacks in these final days.

Please contribute $5 or more to Democrat David Weprin before tonight's One Week Out deadline. Your gift will have a direct impact on Election Day. <http://www.dccc.org/page/m/1d63c97e/1b93f1b2/4341b9b4/4e0ced69/3878331639/VEsH/>

David's opponent may have his deep-pocketed right-wing supporters to help him — and national Republicans ready to swoop in — during the final push before the election, but we are depending on grassroots supporters like you.

Your generous donation will help David with get out the vote efforts and to spread his message about the need to protect Medicare and Social Security. Even just a small gift today could go a long way.

Can you chip in today to help give David critical resources in the final days before the special election?
Please contribute right now &gt;&gt; <http://www.dccc.org/page/m/1d63c97e/1b93f1b2/4341b9b4/4e0ced69/3878331639/VEsE/>

Thank you,

Congressman Joe Crowley
DCCC National Finance Chair
—————-