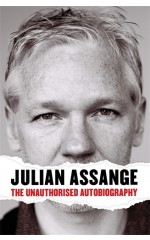 Julian Assange's autobiography–which he initially championed and then tried to cancel–will be published in the U.K. tomorrow by Canongate, its British publisher. Its American publisher has decided not to go along, however.
"We cancelled our contract for Julian Assange's memoir," wrote Knopf spokesperson Paul Bogaards in an e-mail to The Observer. "The author did not complete his work on the manuscript or deliver a book to us in accordance with our agreement. We will not be moving forward with our publication."
Canongate had a contrary assessment. "We will publish the unauthorised first draft which was delivered to us in March," read an unsigned statement from the publisher. "It fulfils the promise of the original book proposal and is, like its author, passionate, provocative and opinionated. We are proud to publish it."
Julian Assange received a $1.3 million advance to write his memoirs last December. The book was to be published by Canongate in Britain and Knopf in the U.S. and ghost written by London Review of Books contributor Andrew O'Hagan, who apparently spent 50 hours in a country house with Mr. Assange to garner material. According to The Independent, Mr. Assange's feelings about his memoir soured early:
At the time Mr Assange trumpeted the deal, saying he hoped his book would become "one of the unifying documents of our generation" which would explain his "global struggle to force a new relationship between the people and their governments."

But the relationship soured soon after the first draft of the manuscript was delivered to him in late March, prompting Mr Assange to pull the plug on the deal declaring, according to those present, that "all memoir is prostitution." For the publishers his complaints came out of the blue. Only a week earlier he had posed for a photo shoot and cleared the portrait that now graces the book's front cover.
Hoping to make up for losses, Canongate has decided to publish Mr. Assange's memoir anyway, under the comical title Julian Assange: The Unauthorised Autobiography. Mr. Assange was given a 12-day window to file an injunction, reports The Independent, but failed to make the deadline.