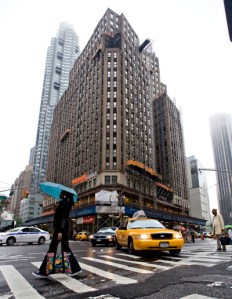 It was in night school that Mr. Moinian first heard about 1775 Broadway. In the fall of 1998, he had been in the business two decades, but was hoping to learn more about the buildings he built, so he studied part-time at N.Y.U. One of his classmates gestured to an older gentleman sitting in a nearby desk. "Do you know who that is?" the classmate whispered to Mr. Moinian, as he recalled the events on our tour. "That's Lester Weindling. He owns 1775 Broadway."
Mr. Moinian shrugged it off, until he was in a uptown-bound cab a few weeks later and he passed the property, which still dominated the southern side of the roundabout. "I said, 'Oh my god, this is the building," Mr. Moinian recalled. He reached out to Mr. Weindling, who had purchased the building in 1969 with the proceeds from the sale of his family's apartment holdings in Queens. The then-71-year-old developer said no. Six months later, when the city revived plans to redevelop the Robert Moses-built New York Coliseum convention center, he changed his mind, Mr. Weindling didn't want to deal with the headaches of a major construction project, according to Mr. Moinian. They sealed the deal with a handshake over lunch at Le Bernadin. The price was $130 million, the deal closed Sept. 15, 1999, almost a year after those classroom whispers.
It was exactly because of those apparent headaches that Mr. Moinian said he was interested in the project. He saw a boom coming to the West Side, and above all else, the opportunity to own Central Park views was too good to pass up. "You can never take these away," he said, then pointed to Extell's One57 rising a few blocks away. "You see that? They have to go up 30, 40 stories to get these views, because there are buildings in front of them."
While that may be true—and even Mr. Moinian's views are blocked on the lowest floors by the Museum of Art in Design—the vistas at 3 Columbus are through the same three-foot-wide punched windows that have been here for almost a century, as opposed to the sweeping floor-to-ceiling glass that has become the standard at towers like the Time Warner Center. Up close the panoramas are spectacular, but they begin to disappear a few feet back.
Ironically enough, it was Steve Ross who prompted Mr. Moinian's decision to revamp his property. At a city planning presentation a few months after he purchased the building, Mr. Moinian saw Mr. Ross's proposal. "That's when I knew things were about to change," Mr. Moinian said. "There is no question he has revamped the entire area." (Asked if there was any bad blood remaining between them, Mr. Moinian said, "Business is business. That's all behind me.")
Throughout the tour, Mr. Moinian's Blackberry rang out, and the Alicia Keys hook from "Empire State of Mind" would echo through the empty office space. Mr. Moinian smiled the same toothy grin he always wears with his expertly groomed suits. He is eternally bullish.